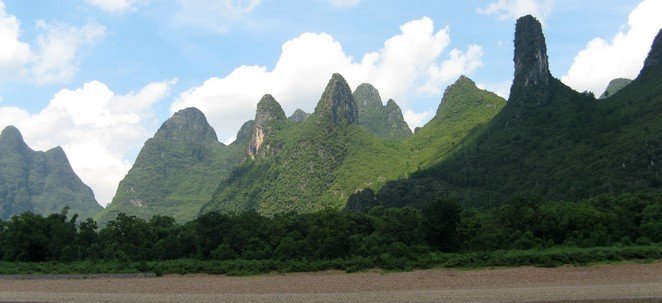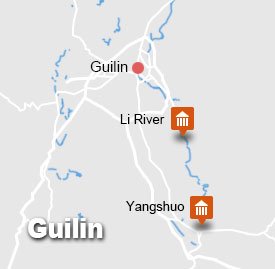 Itinerary
After your flight lands, meet your tour guide at the arrival hall and transfer to your hotel by private car and driver.
Day 2:
Full Day Reed Flute Cave and Yao Mountain Tour
Get up early in the morning to avoid large crowds on the streets. It takes about 40 minutes for you to get to the Reed Flute Cave. On the way to the Cave, you will see paddy fields and Peach Blossom River. The cave is regarded as the largest and most impressive cave in Guilin, offering a magic natural gallery of stalactites, stalagmites, stone pillars and stone curtains in fantastic shapes and colors.
After lunch, head for Yao Mountain. 1.5 hours are needed for the ride. The Yao Mountain is the highest mountain in the city area with a height of 909 meters. You can take a cable car to the top of the mountain and get a birds-eye view of Guilin.
Day 3:
Li River Hiking Tour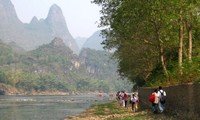 Hiking along the Li River gives a great opportunity see the gorgeous Li River scenery close-up and real rural life. The hiking route from Yangdi to Xingping is classic. After a one hour drive from Guilin to Yangdi you start the hike. The hike from Yangdi to Xingping is about 20 km and it takes about 5 hours at a medium pace. You will pass small villages; see rice fields, orchards and unique karst mountains. It is pleasant to count how many horses on the famous nine-horses-fresco as well as take a picture at Xingping which is featured on the 20 Yuan bank note. You will need to cross the river three times in a ferry boat during the hike. Our driver will pick you up at Xingping and then drive the 40 minutes to Yangshuo.
Day 4:
Yangshuo Countryside Tour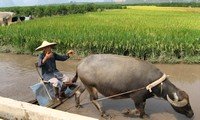 Get up early in the morning, take the road on your right and start your biking after passing a gas station, the villages you will be visiting are Yima and Baisha, if time is right, stop for a while to talk to local farmers or pick some fresh fruits in the orchards; the views along the way are ponds, fields, mountains and Yulong River. After about 3 hours, you will get to the part of Yulong River near the Yulong Bridge where you will have lunch on a bamboo raft. Bike another 40 minutes you will be able to get back to your hotel for a shower.
Transfer from Yangshuo to Guilin Liangjiang International Airport for your departure flight.