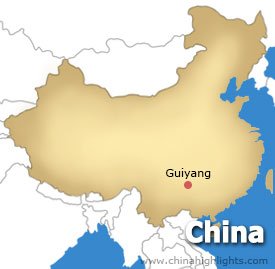 Itinerary
The guide will greet to you and get ready to pick you up on time. After reaching the hotel by private car, the guide will help you check in.
Day 2
Guiyang and Anshun – Ground Opera, Batik Museum, Huangguoshu Waterfall, Tianxing Bridge Scenic Area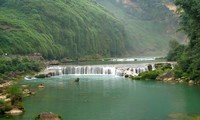 Ground Opera is a traditional opera often performed at festivals in Anshun. It is famous as "the living fossil of the ancient shows". Actor and actresses wear ethnic costumes and put wooden on their foreheads to deliver some old stories in an interesting way for you. Visit Batik Museum and see the collections of art works made of batik.
Compromised of many small waterfalls, Huangguoshu Waterfalls are one of the largest waterfall groups in China. Tianxing Qiao Scenic Area features the perfect combination of stones, trees and water.
Day 3
Kaili – Shiqiao Miao Village, Qingman Miao Village
See the traditional way of making paper in Shiqiao Miao Village. The method has over one thousand years, which is still well kept by the local people and developed to make color paper. Have a small cup of wine before stepping into the ethnic villages is a tradition in China. You will have a chance to see the color clothes and dresses made by dyed fabric in a very traditional way.
Day 4
Rongjiang – Datang Village, Jidao Long-Skirt Village, Xijiang Miao Village, Chejiang Dong People's Village
Situated at the foot of Leigong Mountain, the main attractions of Datang Village include local customs, Miao women's short skirts, and their waterproof granaries.
Located in China's poor southwestern province of Guizhou, Jidao long-skirt Miao village is set in idyllic surroundings and populated by ethnic Miao people. Village life is simple and children play as their parents tend fields of lush, organically grown vegetables surrounded by towering pine forests. Elderly women stoke fires in traditional wooden houses, some hundreds of years old. You will be greeted by its friendly villagers and will be offer some village wine before entering the village. You will have a chance to see their traditional way of spinning and weaving.
Xijiang Miao village was built on the mountain slope and noted as the largest Miao village in China with more than 1000 family households. You will have a chance to see their folk performance.
Chejiang Dong people's village is situated alongside a river near Rongjiang County. It is one of the largest Dong villages in China. The big Banyan tree in the village was planted 300 years ago. It is located among mountains, rivers and verdant trees, in the center of Banyan tree scenic area. There are several hundred families in the village, whose family names are mostly Yang. Almost all people in village can sing folk songs.
Day 5
Zhaoxing – Basha Village, Zhaoxing Dong Village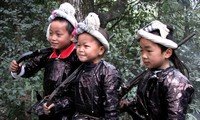 Basha is a very special and old Miao Ethnic village. The villagers still practice their unique traditions dating to Qing Dynasty (about 2200 years ago). Basha village is very little touched by violent modernization. Residents there still live in their wooden houses, practicing centuries-long custom and have their own unique belief. Basha Miao village is known for its men's unique hair dresses and long guns, and the women's shinning fabric from egg white.
Zhaoxing Dong Village is one of the largest Dong villages in Guizhou Province with over 1000 households. Their drum towers complex is considered the largest one in China.
Day 6
Sanjiang – Tang'an Village, Sanjiang Chengyang Wind and Rain Bridge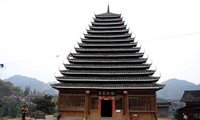 Tang'an Village was built on a steep mountain slope overlooking terraced paddy fields. The village contains ancient wooden buildings, a traditional drum tower, theater stage, and gravel yard adjacent to some residential houses, and a well provided water supply.
Sanjiang Chengyang Wind and Rain Bridge was built in 1916, and it is the best one among the several wind and rain bridges in nearby Dong stockade villages. At present, it is the largest wind and rain bridge. The wooden Wind and Rain Bridge is a typical building of Miao minority, which you can see in many Miao ethnic villages.
Day 7
Longsheng – Longsheng Terraced Fields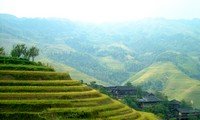 Today, you will go hiking in Longsheng Terraced Fields. And then transfer to Guilin.
Longsheng Terraced Fields is one of the best hiking routes in China not only for the fabulous rural scenery, but also for the diverse minority cultures. Standing on the top of the mountain and take a bird's eye view of the fields is great. Visit Longji in different seasons, you can get different colors photos of the terraces. Attending the minority festivals, like Drying Clothes Festival in the sixth month of the lunar calendar is a special and traditional way to experience the minority culture.
The nighttime in Guilin is for you to explore the city. You can also ask for some advices from your tour guide.
Day 8
Cruise on the Li River
A cruise along the Li River between Guilin and Yangshuo is an unforgettable experience. As you take in the stunning scenery, there's something interesting to see at almost every bend in the river. Between spectacular limestone peaks you'll see graceful bamboo groves, farmers tending rice paddies, and lumbering water buffaloes pulling carts or cooling off in the river. You may see fishermen gliding along on their narrow bamboo rafts.
You will get off the ship and reach Yangshuo. Hanging out in this lovely global town and discover the highlights by yourself.
Day 9
Yangshuo – Countryside Cycling, Local Family Visit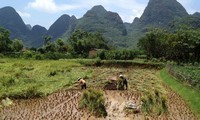 Cycling on the country roads, lanes and tracks of the distinctive and beautiful Yangshuo countryside is a best way to escape the hustle & bustle of the Yangshuo village. Biking alongside the paddy field and orchards that surround the famous mountains will give a fascinating insight into life in rural China. You will have a family visit at half way. It is an old house made of stones. It is an opportunity to see a real country life and talk to the local farmers.
At night, you can go shopping or have some drinks in the famous West Street.
Day 10
Transfer to Guilin and Departure
You will be firstly escorted from Yangshuo to Guilin, and then immediately to the airport. If you are not going to depart Guilin or Yangshuo, you can see our Discover More of Guilin and Yangshuo for more excellent and interesting ideas!