Itinerary
Day 1:
Arrive in Guiyang , Flight No. TBA
Airport Transfer (Guiyang)
Day 2:
Jiaxiulou, Qingyan Ancient Town, Qianling Park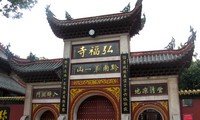 Jiaxiulou (30 minutes): Built in 1598, and is one of the symbols of Guiyang. The tower is a timberwork building with attics, and twelve stone pillars at the bottom. It is surrounded by a marble balustrade. Jiaxiu Tower is linked with the Fuyu Bridge which connects both the south and north banks.

Qingyan Ancient Town (1 hour): Established as a town in 1738 in the Ming Dyanasty, it is 29 kilometers from Guiyang. As the historic and cultural town in the province, there are 9 temples, 2 shrines, one palace and other well preserved ancient constructions, which shows the excellent skills of ancient architecture. It was designated as a national cultural relic in 1995.

Qianling Park (1 hour): Situated on Qianling Hill, which is 1.5 kilometers from the center of Guiyang City, the park covers an area of 426 hectares. First built in 1957, it is a unique park in the city and a 4-A National Tourist Attraction. In the park, there are verdant old trees spreading their shades, the Qianling Lake rippling in the breeze, the Nine-winds Path zigzagging up the mountain and fish swimming leisurely in the Seven-star Lotus Pond.
Day 3:
Depart Guiyang, Flight No. TBA
Hotel to airport Transfer (Guiyang)