Itinerary
Day 1:
Arrive in Hong Kong, Flight not included
Airport Transfer (Hong Kong)
Day 2:
Des Voeux Road West for Shopping Recommendation, Victoria Peak, Repulse Bay, Aberdeen, Western Market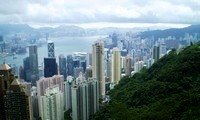 Des Voeux Road West for Shopping Recommendation: On the north shore of the Hong Kong Island, Des Voeux Road West was known as 'Salty Fish Hood' half a century ago because most of the shops sold salty fish. Nowadays, most of the shop owners have revamped their businesses and sell dried seafood, from high end abalone to dried shrimp.

Victoria Peak: Victoria Peak, located in the Midwest District, is the highest point on Hong Kong Island. It is the best place for a bird's eye view of Victoria Harbor and the whole island. The night scene with the harbor and high rises all lit up by dazzlingly neon lights is fabulous.

Repulse Bay: Repulse Bay is located at the southern part of Hong Kong Island. It is the most popular Bay in Hong Kong, packed with visitors on weekends and during week days in the summer. It is blessed with clear waters, fine sand, calm tides and gentle waves. Swimming, sunbathing and leisurely strolls in the shade are the three most enjoyable activities. Repulse Bay has one of Hong Kong's richest communities. The hills surrounding the beaches are dotted with luxurious apartment blocks.

Aberdeen: Aberdeen Harbor retains its characteristics of a traditional fishing village in the 1800s. Hundreds of fishermen still live and work on their junks here. Tours of the Harbor can be arranged on sampans pulled by fishermen or on a luxurious modern tourist ship. Two renowned floating seafood restaurants are located here.

Western Market: This is a restored early-20th-century Edwardian-style building features stalls selling everything from local handicraft to collectables. Cloth Alley on the first floor is a definite must-visit.
Day 3:
Jade Market for Shopping Recommendation, Hong Kong History Museum, Dialogue in the Dark Hong Kong
Jade Market for Shopping Recommendation: The Jade Market is located at the junction of Kansu Street and Battery Street in Yau Ma Tei. It is a must-see place for jade lovers and collectors. Over 450 stalls sell a great variety of jade pieces from precious and delicate carvings, to simple pieces of jewelry and inexpensive trinkets. Bargaining is expected.

Hong Kong History Museum: It exhibits some cultural relics concerning about the history of Hong Kong and the South China area.The Museum has built up a significant collection of historical objects and materials amounting over 90,000 items, including active fieldwork, purchases and donations. The new Museum and the neighbouring Science Museum together form a museum complex of a harmonious appearance and colour scheme.

Dialogue in the Dark Hong Kong: Visitors will experience the challenge your senses, have a Dialogue in the Dark. The DID guide will show you the way to the series of rooms, they are set up like as different settings (ie. a park, on a boat, at the market) which you navigate with your cane and using your other sensesRely on your non-visual senses and discover 5 everyday environments common to Hong Kong.
Day 4:
Depart Hong Kong, Flight not included
Hotel to airport Transfer (Hong Kong)