Itinerary
Day 1:
Arrive in Hong Kong, Flight not included
Airport Transfer (Hong Kong)
Day 2:
Half day Hong Kong Island Orientation Drive to Victoria Peak, Aberdeen, Repulse Bay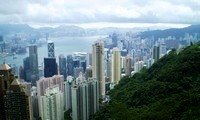 Half day Hong Kong Island Orientation Drive to Victoria Peak, Aberdeen, Repulse Bay(meals not inclusive) : You will be picked up from your hotel by your guide who will accompany you on your tour. The tour will last a time of maximum 5 hours. Hong Kong is a fascinating combination of East and West but it has its own unique and distinctive culture. Your half day tour will take in Victoria Peak, Hong Kong's number one tourist destination. It features the 112 year old Peak Tram and Hong Kong's most unusual building, The Peak Tower. Next stop is Aberdeen Harbor which is home to hundreds of people living on fishing junks. If you would like close up look at this unusual way of life, you can take a sampan ride (US$10-12). Repulse Bay is the last stop today; it is one of Hong Kong's most exclusive residential areas.
Day 3:
Hong Kong to Chongqing to Yangtze, Flight No. TBA
Hotel to airport Transfer (Hong Kong), Airport Transfer (Chongqing), Cruise pier Transfer (Chongqing), Board the ship from 5:00pm to 8:00pm and departs Chongqing at 10:00pm.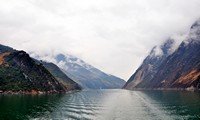 Shore excursion to Fengdu Ghost City (8:00-10:00am).
Captain's Welcoming Banquet
Captain's Welcoming Dancing Party in Ball Room

Fengdu is where the devil lives, according to Chinese legend. They say that spirits go to heaven, and evil goes to Fengdu. The town is overlooked by Ming Shan Hill, home of Tianzi, the King of the Dead. The whole place has an eerie feel to it with deserted streets, tower blocks, empty shops and banks. The only people here are those who make a living from visiting cruise boats.
Tips:
1.There are about 100 steps from the river to the town.
2.A cable car is available ride to the top of the hill. The cable car is not included in the tour cost. The cost is RMB20/ per person round trip.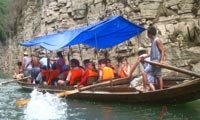 Passes through the 1st gorge--Qutang Gorge.
Passes through the 2cd gorge---Wu Gorge.
Shore excursion to Shennong Stream(1:30pm-5:30pm). You have the option of visiting White Emperor City(RMB260 per person).
Crew's Performance.
Sails through the 5-steps Ship locks.

Shennong Stream is another tributary of the Yangtze River, and its fast-flowing, crystal clear water runs southwards through deep gorges. The stream races past large and small karst caves, flocks of swallows, sheer cliffs, deep gorges, waterfalls, three-colored springs, rapids, the ancient plank path, a suspended coffin in the cliff, groups of ancient tombs and marvelous karst formations.
Day 6:
Yangtze to Yichang to Wuhan to Hong Kong to Departure City, AirConditionFastBus, connect Flight No. TBA, connect Flight not included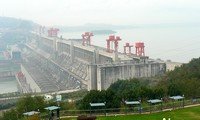 Cruise pier Transfer (Yichang), Express bus station transfer (Yichang), Express bus station transfer (Wuhan), Airport Transfer (Wuhan), Shore excursion to The Three Gorges Dam Site. Arrive in Yichang at 1:00pm.

Three Gorges Dam, the largest water conservancy project ever undertaken by man and it has been a dream for several generations of Chinese people. The construction of the dam formally began in 1994. The body of the dam was completed in 2003, and the whole construction has been competed in 2009. It will be 2,335 meters long, 185 meters high, 18 meters wide on the top and 130 meters wide at the bottom.The tourists can get access to the top of the dam and enjoy different kinds of photo opportunities.