Itinerary
Day 1:
Arrive in Huangshan, Flight not included
Airport Transfer (Huangshan)
Day 2:
Xidi Village, Hongcun Village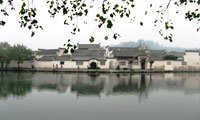 Xidi Village (1.5 hours): Xidi(the World Cultural Heritage site)is located at the foot of Mt. Huangshan. It's 54 kilometers away from Huangshan City. First built 900 years ago in the Song Dynasty , its traditional architecture is well preserved. The buildings and the street patterns, reflect the socio-economic structure of an enduring period of Chinese history. Don't miss the magnificent memorial archway.

Hongcun Village (1.5 hours): It's located about 10 kilometers off the northeast part of Yixian County. An ancient village over 800 years old leaning against Mt. Huangshan, it is folded in the fog of the Mt Huangshan, which makes it look like a natural landscape painting. Parts of the famous film "Crouching Tiger and Hidden Dragon" were made here.
Surrounded by a picturesque moat with bridges to the village and a half-moon shaped pond in the centre, it is a favourite haunt of artists and students who often stay with local families to paint here. Laid out to represent a buffalo, it is one of the prettiest places in the area, known as the Chinese town in the pictures and has been listed by UNESCO for its beauty and largely undeveloped traditional streets and houses. Various halls, dwellings and an old school are open to visitors.

Leigang villa: Located on the top of the Leigang hill, Leigang Villa restaurant serves local style Chinese food. Lunch is served in a beautiful environment with pleasant scenery, as the restaurant is surrounded by a forest of bamboo and peach trees. The restaurant has a bird's eye view of Hongcun village.
Day 3:
The Yellow Mountains, Yungu Cable Car
The Yellow Mountains (6 hours): Located in the south of Anhui Province, with an area of about 1,200 square kilometers, known as "the loveliest mountain in China",famous for magnificent scenery whatever the season: granite peaks piercing the clouds, strangely shaped rocks and gnarled trees, hot springs, waterfalls, wonderful outlooks and over 1500 plant species. No traffic within the core area of about 150 square kilometres, accessible by cable car or on foot. Many enticing walks of all grades, all include some steps.

Yungu Cable Car (10 minutes): You can enjoy the scenery along the way as you ascend or descend the Yellow Mountain by cable car.
Day 4:
Yungu Cable Car, Tunxi Ancient Street, Huizhou Culture Museum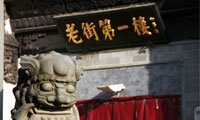 Yungu Cable Car (10 minutes): You can enjoy the scenery along the way as you ascend or descend the Yellow Mountain by cable car.

Tunxi Ancient Street (1 hour): It's located in the center of the old city of Tunxi,there are hundreds of old but well preserved rows of shops, evoking a bygone era in buildings that are simple and elegant. It is a commercial street that is only for pedestrians.

Huizhou Culture Museum: Located at the south side of Tunxi aiport Yingbin Avenue and adjacent to Hui-hang high way entrance, Huizhou culture museum covers a land area of 10.4 hectares and an architecture area of 1.4 hectares. With more than 100000 historical relics varying from ancient ceramics and pottery, ink stone, Huizhou ink stick ,paintings ,calligraphy, carvings in stone ,brick and wood, bronze ware, jade and old local books and documents to some others, Huizhou culture museum fully bring forth the feature of local culture.
Day 5:
Depart Huangshan, Flight not included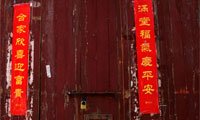 Shexian Tangyue Memorial Arches, Chengkan Village, The Qian Kou ancient Residence House, Hotel to airport Transfer (Huangshan)

Shexian Tangyue Memorial Arches (1 hour): Known as the "Town of Arches", Shexian is a must see for fine examples of residential architecture and memorial arches from Ming and Qing dynasties. The Chinese name "Paifang" is given to an arch usually made of fine wood or stone, as memorial and decoration. Shexian has thousands of arches. It is a great place to explore the social culture in China's feudal society.

The Bao Family Garden is near the Tangyue Memorial Arch Group. This private garden once owned by successful businessman Bao was as famous as the Humble Administrators Garden in Suzhou. Built as a Bonsai garden, it showcases the best works of Bonsai from different schools of this art. It blends perfectly with the Tangyue Memorial Arch Group, and is a fascinating way to spend a few hours.

Chengkan Village (1.5 hours): Located near Huangshan city, Chengkan is an ancient village with a long history of more than 1800 years. It now still has kept the former layout of the village and water network set in Ming Dynasty which was designed to the theory of the Book of Changes and formed a village of the mysterious Eight Diagrams. The Baolun Hall in the village built during the Ming dynasty is a representative collection of typical Huizhou architecture.It is also the most magnificent ancestral temple in Huangshan city today.

The Qian Kou ancient Residence House (1 hour): The Qian Kou Residence typical of the Ming Dynasty (1368 - 1644). In order to preserve these buildings the government disassembled the ten most valuable old buildings from Ming Dynasty (1368 - 1644) and moved them to Qian Kou. The buildings were rebuilt exactly as before, true to the original structure and appearances. These ten old buildings include three ancestral temples, four residences, one stone memorial arch, one arch bridge and one pavilion. The various buildings have been situated to compliment their surroundings and Mt. Zixia. They form a garden-style residence and are in harmony even though each of the components has a different background and history.

ENDEARCAFE : western food and Business Package