How to Plan a China Trip
Are you confused by the hundreds of China tour options? Answering question like "Is this your first visit to China?", "What is the best entry city to start your tour?", "How much do you want to spend?", "What really interests you?", and "When do you wish to travel?" will make your decisions much clearer. We provide options for each and make suggestions about China holidays based on our years of experience.
Best of China
China Weather & Climate
Before you travel to China, it is recommended that you check the weather conditions. China is vast, and the climate and conditions vary widely from region to region, from season to season, and sometimes even from day to day.
We provide a live week-long weather forecast, and monthly climate and travel information, for most tourist destinations in China. Check out the weather now, and what it is usually like throughout the year.
Best Time to Go to China
The best time to go to China depends on where you would like to go and what you want to do. From your answers, we can give you some suggestions here.
If you want to see traditional Chinese festivals and celebrations, you'd better check out when they are.
Last but not least, you should know the dates to avoid when planning a China tour.
Golden Triangle Travel
Beijing, Xi'an, and Shanghai are the "golden triangle" of China tours, and 90% of customers choose them for their first China trip. So why not?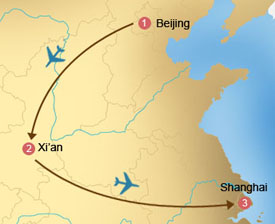 Recommended Travel Routes
1. A Rough Overview Of the Time Needed
| Major Focus & Region | Days |
| --- | --- |
| Beijing, Xi'an & Shanghai | 7–10 |
| Golden Triangle + Yangtze Cruise | 11–14 |
| Golden Triangle + Guilin | 10–13 |
| Tibet & Gateway City | 5–7 |
| Yangtze Cruise + Pandas | 7–8 |
| Silk Road – Deserts & Minorities | 8–10 |
| South West Guilin, Shangri-La, Guizhou | 10–12 |
| South West + Tibet or Yangtze | 14–16 |
| South Region, Silk Road, Tibet | 25–28 |
2. Silk Road Adventure
"It's a journey of contrasts: Han and Uyghur ethnicity, Buddhist and Muslim religion, desert and mountain scenery, East and West (Central Asian) culture."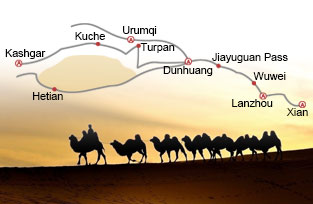 3. Yangtze River Cruises
"Cruise on the most interesting river in the world, and appreciate the Three Gorges Dam."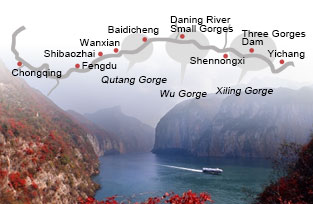 More China Travel Ideas & Suggestions