Itinerary
Your tour guide, driver and car will wait for you at the arrival hall of airport and transfer to hotel. Your tour guide will assist with your luggage and check-in.
Day 2:
Sun Island, Zhaolin Park and Central Street Tour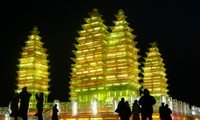 Every year during Harbin International Ice and Snow Festival, the city is turned into a fairy world thanks to the excellent works of artists from around China and the World. Sun Island Scenic Area and Zhaolin Park are two major sites of the festival, the former features snow sculptures while the latter ice lanterns.
Stroll leisurely along Central Street, the most prosperous commercial street in Harbin with good places for shopping and dining. Its western style architecture built mostly in 1900s is also worth seeing.
Day 3:
Jile Temple and Dragon Tower Tour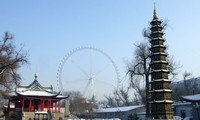 Visit the landmark of Harbin City – Dragon Tower. At a height of 335 meters (1102 ft), it serves as a Heilongjiang TV Broadcasting Tower. The observation platform at 190 meters (623 ft) gives a nice panoramic view over the city.
Enjoy religious tranquility at Jile Temple, a typical Chinese Buddhist temple and the largest of its kind within the province. It is very popular among local people, especially during traditional festivals, when people come to pray and burn incense. After visiting, transfer to Jilin (about 3 hours) and stay overnight.
Day 4:
Rimed Trees, Deer Farm, Meteorite Museum and North Mountain Park Tour
Also called tree hangings, the rimed trees in Jilin are recognized as one of the China's four natural wonders (others are Guilin Landscape, Three Gorges of Yangtze River, Yunnan Stone Forest Karsts). In the severe cold of winter, the branches of willow trees covered with glittering ice along the Songhua River banks, forming a fairytale crystal world.
Enjoy natural scenery at North Mountain Park, a temple scenery garden and local people's weekend getaway. Also see the world's largest meteorite and meteorites collected from around the world at Jilin Meteorite Museum, the first of its kind in China.
Note: Restaurant choices are limited here, but our tour guide will organize the best available and help you order something to your taste.
As your vacation concludes, your tour guide, driver and car will pick you up from your hotel and transfer to airport to catch your flight on time. The tour guide will help you with check-in and accompany you till the point of security gate and say goodbye.