Itinerary
You will arrive at Kashgar today. The guide will be waiting for you on time and pick you up to the hotel.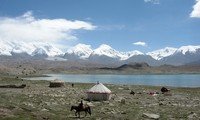 Visit Lake Karakuli, you can not only appreciate the gorgeous scenery of this holy pure lake on the plateau, but also can experience Chinese minority cultures. The lake is famous for its beautiful scenery and clarity. Colors of its water range from light to dark under reflection. It is an ideal place to escape bustle and hustle city life and get closer to nature.
Day 3:
Id Kah Mosque, Bazzar, Zhiren Street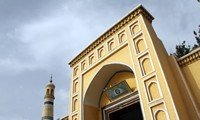 At Midday on every Friday, there are about 10,000 people gathering in this large and busy Mosque, praying and studying the Koran. In this Muslim place, you must take off your shoes, which means respect. Entering the main hall of Id Kah Mosque, you can see traditional Islamic decorations, including pillars, carvings and rugs strewn over the floors.
Kashgar Bazaar is well-known throughout Asia, where a large number of merchants but also local people come for business every day. Commodities cover every aspect that you can imagine, such as dries fruits, clothes, shoes, rugs, carpets, scarves, and other special souvenirs. Bazaar especially Sunday Bazaar is a very interesting place so many foreigners' main purpose in Kashgar is to visit the Bazaar.
Zhiren Street is an old street with an amazing range of goods being crafted for sale by hand. Hanging out in Zhiren Street, you must find something interesting and unique!
As your tour of Kashgar ends today, the driver will escort you to the airport on time.