Itinerary
After arrival at Urumqi, the guide will pick you up to the hotel and help you check-in.
Day 2:
Urumqi – Xinjiang Uygur Autonomous Region Museum, Id Kah Mosque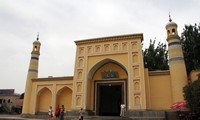 There are a large number of ethnic collections, such as silver works of art, stone steles, ancient coins and currency, colorful ceramics, and painting. The exhibitions in the museum record the history and development of Xinjiang Uygur Autonomous Region. 4,000-year-old corpses unearthed along the Silk Road is a unique highlight.
Id Kah Mosque is a large and busy place for Islamic people to pray and study the Koran. This mosque is a typical Islamic building, with many delicate decorations, such as carvings and delicate rugs over the floor.
After the visit take a flight from Urumqi to Kashgar and check-in your hotel in Kashgar.
Day 3:
Kashgar – Lake Karakuli
Surrounded by beautiful natural scenery, Lake Karakuli is one of the most gorgeous lakes on Qinghai-Tibetan Plateau. Colors of the water range from light to dark, which is really magical.
Day 4:
Kashgar – Bazaar, Zhiren Street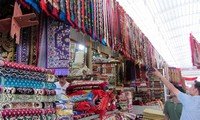 Today, you can enjoy a wonderful day of strolling in the most popular local markets in Kashgar.
Many merchants from the nearby countries come to Kashgar Bazaar to exchange and buy goods. There are many kinds of commodities sold in this bazaar, like dried fruit, clothes, textile, carpets and other special souvenirs.
You can find an amazing range of commodities in Zhiren Street, such as cookware and exotic musical instruments. There's not much light industry in Kashgar, so everything is hand-made or imported from a very distant place.
Day 5:
Transfer to Hetian
Today, you will reach Hetian from Yarkant. The rest of the day is for you arrange on your own. You can ask for some suggestions touring around this city.
Day 6:
Yarkant - Yarkant King, Amannishahan
Yarkant King forms an oasis at the western end of the Taklimakan desert as a trade center. Mainly inhabited by Turkic-speaking Muslims, it has more than 120 mosques. Marco Polo visited the city in 1271 and in 1275; it was on the important Silk Road between China and Europe.
Amannishahan is the tomb for Amannisha, which is the concubine of Yarkant King. She died at a very young age of 34. She made lots of contribution to the culture of Xinjiang.
Day 7:
Hetian - Mallikurwatur Ruins
Situated on a 1500 m long belt, Mallikurwatur Ruins is believed to be the ancient city of Yutian Kingdom although disputes claim it used to be a monastery compound. From 1977, potsherds, ancient coins and other items have been excavated.
Today, you will be transferred to Kuqa. Explore the city on your own during the rest of today. You are sure to find something of interest; the area is just begging to be explored.
Day 9:
Kuqa –Subash Anceint City
Though it remains only as ruins, Subash Anceint City was the ancient capital of the Kingdom of Guici. The city is believed to be even older than the ancient Harappan civilization, which dates back around 4,000 years.
Day 10:
Kuqa –Grand Kuqa Mosque
Grand Kuqa Mosque is the second biggest mosque in Xinjiang, first built in the 17th century, but after it burnt down it was rebuilt in 1931. The great praying hall, which can accommodate 1000 prayers, is supported by 88 pillars, embellished with carved designs and in many colors, a fine example of Uygur architecture.
Day 11:
Turpan – Jiaohe Ancient City, Karez Wells
Built in Qin and Han Dynasty, Jiaohe Ancient City is an import site in the ancient Silk Road. It was dug out of and constructed from the yellow-gray parched ground. Its surrounding landscape holds vineyards and orchards with a backdrop of desert and mountains.
Karez Wells is an important irrigation system of the vineyards on the hot and dry dessert. A small museum provides an insight into their intriguing history and construction, and takes you below ground for a first-hand view of this feat of engineering.
Day 12:
Turpan –Tuyugou Great Canyon, Flaming Mountains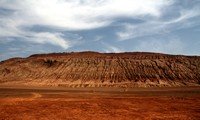 Tuyugou is a traditional village of vineyards, orchards, narrow streets and irrigation channels tumbling between ancient mud brick houses and shady trees against the backdrop of the bare, red Flaming Mountains. An easy and pretty walk takes you to a group of very ancient caves carved into the mountainside. You can stop and enjoy the surroundings, or climb the steep stairways to view some of the caves, parts of their frescoes still visible, with both Buddhist and Nestorian connections.
On the way from Turpan to Urumqi, you can see the famous mountain appearing in the classic "Journey to the West", these are the Flaming Mountains.
After transferring to Urumqi, you will get ready for your departure. The guide will help you make sure all the formalities and send you to the security gate.