Itinerary
Day 1:
Arrive in Kunming, Flight not included
Airport Transfer (Kunming)
Day 2:
The Stone Forest, Jiuxiang Caves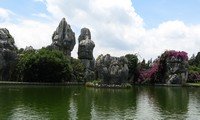 The Stone Forest (2 hours): A fantastic natural phenomena located 90 km southeast of Kunming. The various shapes of karst landscape was formed due to millions of years' movement of Earth. The Stone Forest area is the home of the Sani people, their folk customs has become one spectacular scene, the colorful embroidery and minority dances combine with the natural sceneries, which will surely leave you a deep impression.
Jiuxiang Caves (2 hours): Jiuxiang Caves are situated in Jiuxiang Township, about 70 kilometers from Kunming. There are more than one hundred karst caves in Jiuxiang scenic area. The caves at Jiuxiang are the largest cave group system in China. Inside the cave are many well-developed and wonderful stalactites and stalagmites, which look like pretty fairies welcoming their guests. Names have been given to them such as "Fairies Welcoming Guests", "Woman Weaver", and "The Fairy is coming out of bathing".
Note: The final stage is to climb up Bat Cave. This is the most challenging part as there are about 336 steps. Sometimes there are laborers who offering sedan chair service.
Day 3:
Depart Kunming, Flight not included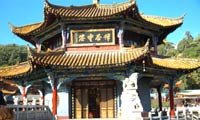 Yuantong Temple, The Dragon Gate on Xishan, Hotel to airport Transfer (Kunming)
Yuantong Temple (1 hour): With a history of over 1,200 years, it is the largest temple in Kunming. In 1956, the grand ceremony of greeting and consecrating the Buddha's tooth was held in it. It was in the list among the key Buddhist temples in China issued by the State Council.
The Dragon Gate on Xishan (1.5 hours): Located 37km west of the down town Kunming, the Dragon Gate in Western Hill is close to the Dianchi Lake. This group of grottoes, sculptures, corridors and pavilions were hacked from the cliff between 1781 and 1835 by a Taoist monk and his co-workers.