Itinerary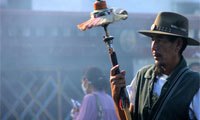 After arrival at the airport you will be met at the airport and transfer to hotel by private tour guide, driver and car. Having a private transfer not only saves you time, hassle but allows you sit back and relax and enjoy the unique scenery on the transfer, as you acclimatize to the altitude. If you wish to stop and take some pictures, just ask your guide!
Day 2:
Sera Monastery, Norbulingka, Drepung Monastery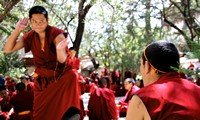 Today we will start at Sera Monastery, a complex of 4 structures; the Great Assembly Hall and three colleges. One of the three main monasteries of Lhasa, it is here that the monks "famous daily debates" take place. Norbulingka was constructed as a summer palace for the Dalai Lama, it later served the whole government administration. It was built by the 7th Dalai Lama and served both administrative and religious purposes.

Built in 1416, Drepung Monastery lies in west of Lhasa under Mt. Gambo Utse, clustered round by the Black Mountain, its white grand buildings shining under the sunlight with the contrasting backdrop. Drepung Monastery used to be the living palace of Dalai Lamas before the reconstruction of Potala palace (after the 5th Dalai Lamas was bestowed by Qing emperor Qianlong). The grand Shonton Festival is held in the early part of August every year. That is the busiest day there with crowds of people.
Day 3:
Potala Palace, Jokhang Temple, Barkhor Street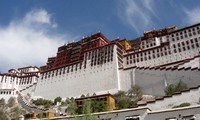 The notable Potala Palace is former winter home of the Dalai Lama. Its vast and awe-inspiring maze of corridors and stairs lead to countless rooms. Each room is richly decorated with statues, tombs, murals and antiques. Climb past the White Palace into the Red Palace, where the file of pilgrims offering silk scarves, coins or yak butter to burn in the shrines. All this combines to make this an unforgettable experience. Note: you need to be in good health for the climb up the long stairways.

Jokhang Temple is a 4-storey golden-roofed temple surrounded by Barkhor Street and thronged with pilgrims and visitors. Many people call the Barkhor "the window of Tibet" as it exhibits typical Tibetan life. Watch the pilgrims, wearing their local dress from many different parts of Tibet, as they circle clockwise around Jokhang Temple with prayer wheels, or prostrate them near the front gate.
Day 4:
Yangpachen, Lake Namtso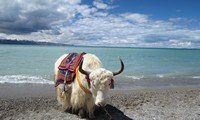 Yangpachen is famous for its hot spring and is a nice choice for those who want to get a close look at the Tibetan herders (drokpa) and their semi-nomadic lifestyle. Lake Namtso is the second largest saltwater lake in China, with its azure water and surrounding snow-capped peaks.
Today we will handle your transfer to the airport for your departure flight.