Itinerary
Board the flight from Beijing to Lhasa by yourself. After arrival, your private tour guide, car and driver will be ready and waiting for you at the airport and transfer to hotel.
Day 2:
Norbulingka, Sera Monastery, Drepung Monastery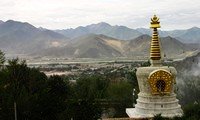 Norbulingka was built by the 7th Dalai Lama and served both administrative and religious purposes. Sera Monastery is one of the three main monasteries of Lhasa. Every day (except Mondays) at 15:00, there is a debate about Buddhist doctrines among the monks at Sera Monastery. Visitors can watch the debate, but need to be quiet. The debate is considered a necessary way of learning the sutras.

Drepung Monastery was built in 1416, it is considered as one of the largest monasteries in the six principle monasteries of Gelu Sect in China. Lying in the west of Lhasa under Mt. Gambo Utse, clustered round by the black mountain, its white grand buildings shine brightly under the sunlight.
Day 3:
Potala Palace, Barkhor Street, Jokhang Temple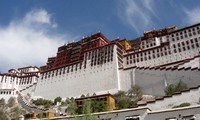 Potala Palace houses a rich and valuable collection of murals, statues, antiques, and its vast, awe-inspiring maze of corridors and stairs lead through countless rooms. You need to be fit to climb up long stairs to reach into Potala Palace, and you will see pilgrims offering silk scarves, coins or yak butter to burn in the shrines.

Watch the pilgrims, wearing their local dress from many different parts of Tibet, as they circle clockwise around Jokhang Temple with prayer wheels, or prostrate them near the front gate.
Day 4:
Lhasa to Shigatse, Yomdrok Lake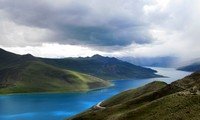 Pelkhor Choede (Kumbum), also named Palcho Monastery, is very different from other monasteries. Built as a Tibetan monastery, its structural style is very unique, reputed as the lord of Tibetan stupas. In addition, it is famous for the architecture, sculpture, and mural painting art. It lies about 270 kilometers (168 miles) south of Lhasa and 100 (62 miles) east of Shigatse at the foot of Dzong Hill.

Yomdrok Lake is dotted with a dozen islands and abundant in natural resources. It has the highest power station in the world, and is also the largest habitat for water birds in Tibet, attracting countless swans and gulls every summer.
Day 5:
Shigatse to Dingri, Tashilunpo Monastery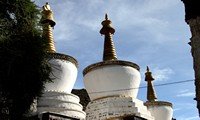 Tashilhunpo Monastery was founded in 1447 by Gyalwa Gendun Drup (1st Dalai Lama) and is a historically and culturally important monastery. Its name means "all fortune and happiness is gathered here". Painted in red and white, the buildings in the kloster stand closely together in terraced rows, offering a grand and majestic view. Tashilunpo Kloster represents the Tibetan super architecture art, presenting a 5 story temple which contains a 26 meters (86ft) sitting statue of the Maitreya Buddha (Jamba Chyenmu) inside the grounds of the monastery. The statue was cast from 6,700 ounces of gold and over 115,000 kg of copper, making it the biggest copper Buddhist statue in the world.
Day 6:
Everest Base Camp, Rongbuk Monastery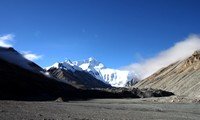 Rongbuk Monastery is the highest temple at an altitude of 5,100 meters (16728 feet), we will take a visit. Not far from the monastery is Everest Base Camp, where you can see Mt. Everest from near distance. Mt. Everest is the highest peak of the Earth and probably the most coveted mountain in adventurous travelers' eyes. Journey to Mt. Everest Base Camp is a both physical as well as psychological challenge to you --5200mt (17000ft), but it will definitely reward you with the most unparalleled views – a panorama of Himalayan peaks - and never-forgotten beautiful memories
Transfer from Shaigatse to Lhasa. The limited restaurant options mean that there is no choice available however our guide will organize the best available based on the season and the surroundings.
Transfer to airport for your departure flight from Lhasa to Beijing