Itinerary
Day 1:
Arrive in Lhasa, Flight not included
Airport Transfer (Lhasa)
Day 2:
Tibet Museum, Old Barkhor Street Walking Tour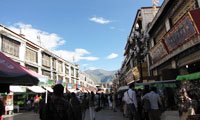 - Tibet Museum (2.5 hours): An attractive modern building in Tibetan style, there's a wonderful variety and quality of items on display here illustrating the rich history, traditions and customs of Tibet, both ancient and modern. Audio commentary is available.

- Old Barkhor Street Walking Tour (3 hours): This walking tours can takes you to workshops, backstreet chapels and pilgrim paths, passing en route some of Lhasa's last remaining traditional architecture. First visit to Jokhang Temple, which is Smaller and more manageable than the Potala, this 4-storey, golden-roofed temple is at the heart of a rich and living Tibetan Buddhism. And then follow the local to pilgrim path around Barkhor circuit. Enroute we will visit a bustling local market. In the Barkhor street area, there are a lot of private small Thangka workshops. Stop in any one of them and watch the artists work. Still walking tour to Ani Tsangkhung Nunnery which is a convent where the females study Buddhism. It is a nice place for a cup of tea after a long day of sightseeing. Just next to the stop is Dropenling Handicraft Development Center where visitors can watch the manufacturing process in their workshop.
Day 3:
Potala Palace, Drepung Monastery, The Carpet Factory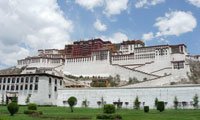 - Potala Palace (1 hour): Former winter home of the Dalai Lama, a vast, awe-inspiring maze of corridors and stairs leading through countless rooms of richly decorated statues, tombs, murals and antiques. You will climb past the White Palace into the Red Palace, where the file of pilgrims offering silk scarves, coins or yak butter to burn in the shrines combine to make this an unforgettable experience. Note: you need to be fit for climbing up the long stairways.

- Drepung Monastery (3.5 hours): Drepung Monastery lies in west of Lhasa under Mt. Gambo Utse, clustered round by the black mountain, its white grand buildings shining under the sunlight. Built in 1416, it is considered as one of the largest monasteries in the six principle monasteries of Gelu Sect in China. Drepung Monastery used to be the living palace of Dalai Lamas before the reconstruction of Potala palace (after the 5th Dalai Lamas was bestowed by Qing emperor Qianlong). The grand Shonton Festival is held in the early part of August every year. That is the busiest day there with crowds of people. It is an opportunity to enjoy the atmosphere of this festival.

- The Carpet Factory: The highland of Tibet is the actual home of the oriental carpets. By visiting Carpet Factory you will have a general idea how carpets are produced.
Day 4:
Sera Monastery, Short hiking from Pabongka Monastery to Sera Monastery, Norbulingka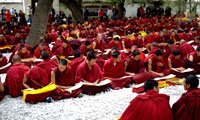 - Sera Monastery (3 hours): Located in the northern suburbs of Lhasa, The Sera Monastery is a complex of 4 structures; the Great Assembly Hall and three colleges. It was founded in 1419 by Jamchen Chojey of Sakya Yeshe of Zel Gungtang (1355–1435), a disciple of Tsongkhapa. 'Sera' means wild roses and was called this because the monastery was surrounded by wild roses. One of the three main monasteries of Lhasa, it is here that the monks "famous daily debates" take place.

Tips: Every day (except Mondays) at 15:00, there is a debate about Buddhist doctrines among the monks at Sera Monastery. The debating is held in the grounds and is a necessary way of learning sutras and scriptures. Visitors can watch the debate, but it is advised to keep quiet.

- Short hiking from Pabongka Monastery to Sera Monastery (4 hours): Drive to Pabongka Monastery where the hiking starts. Pabongka Monastery is on a huge rock with about 20 meters high. It has a longer history than Potala palace. It was a splendid castle of 9 stories when it was first built, and it was destroyed during the various wars, but its majesty still remains.

Hiking downhill, you will arrive at Chupsang Nunnery. Chupsang Nunnery belongs to Gelug Sect of Tibetan Buddhism. Tsongkap (the creator of Gelug Buddhism) first settled here and taught his Gelug Buddhism beliefs. Go on hiking after picnic lunch until to Sera Monastery.
- Norbulingka (2.5 hours): Norbulingka means "Jeweled Garden". Constructed as a summer palace for the Dalai Lama, it later served the whole government administration. It was built by the 7th Dalai Lama and served both administrative and religious purposes.
Day 5:
Depart Lhasa, Flight not included
Hotel to airport Transfer (Lhasa)