Itinerary
Day 1:
Arrive in Luoyang, Flight not included
Airport Transfer (Luoyang)
Day 2:
The Longmen Grottoes and White Horse Temple Tour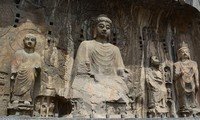 - Longmen Grottoes (2.5 hours): 13 kilometers to the west of Luoyang, Longmen Grottoes is one of the four largest grottoes in China. Live cultural relics lie amid green mountains and serpentine rivers. As early as 1961, Longmen Grottoes had been authorized by the central government of PRC as a key national cultural relic protection unit. It was authorized in 1982 by central government as one of the 44 National Parks of China. In 2000, it was enlisted into the List of World Heritage.
- White Horse Temple (30 minutes): Backed by Mangshan Mountain and facing the Luohe River, White Horse Temple lies about 20 kilometers to the east of Luoyang city, Henan province. Since White Horse Temple, Buddhism monasteries in China traditionally began to be called as 'temple'. White Horse Temple as a result was ever since regarded as the cradle land of Buddhism in China. In history, highly accomplished Buddhist monks from China, even world renowned Buddhist monks from abroad used to pay visits to White Horse Temple in pursuit of Buddhism inspirations and wisdom; it was thereby also called the 'Home of Sakyamuni' or the 'Court for Ancestors'.
- Baxiangong Restaurant- the Eight Immortals Palace Restaurant: Located close to the Longmen Grottoes and Guanlin Temple, the Baxiangong Restaurant has a capacity of 350 people and mainly serves Sichuang cuisine.
Day 3:
The Shaolin Temple and Pagoda Forest Tour (including Shaolin Kungfu Show)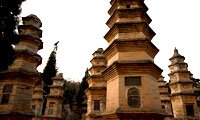 - Shaolin Temple and Pagoda Forest (including Shaolin Kungfu Show) (3 hours): This temple is shrouded in legend and mystery. The origin of martial arts and kung fu is part of the mystique of Shaolin Temple and the Shaolin monks. This is probably the most famous temple in China, not only because of its long history and its role in Chinese Buddhism, but also because of its martial arts or Wushu. There is a theatre here which presents the famous Kungfu Show at 0930, 1030, 1130, 1400, 1500, and1600. It's best to get there early, as it is only a small theatre with about 200 seats.
- Yongtaisi shaolin Vegetarian : Located close to the Shaoling Temple, the Yongtai Nunnery serves Vegetarian food.
Day 4:
Depart Luoyang, Flight not included
Hotel to airport Transfer (Luoyang)