3-Day Historical Malacca Tour
Price Inclusion
Centrally Located Hotel
Authentic Local Restaurants
Private Car and Driver
Guide
Entrance Fees
Service Charge & Government Taxes
Insurance
Tour Arrangements
Malacca is the capital city of the city state of Malacca. The city is a mix of old and new, historical sites and modern office buildings, shopping malls and resorts. It is easy see on foot, trishaw or by taking river cruise to explore the many places that makes Malacca unique. As you explore, you'll learn about the rich heritage and history that has shaped the landscape and left a mark on Malaysia's cultural lifestyle.
Daparture Date: You Choose!
Duration: 3 Days
From: per personIn stock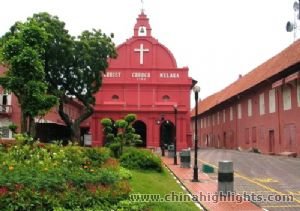 Day 1
Place & Transport:Kuala Lumpur to Melaka
Today's Activities:Our guide and driver will escort you from Kuala Lumpur to Melaka, The Stadthuys, St. Peter's Church, St. Paul's church, Christ Church, The Maritime Museum, Malacca river cruise,
Meals:Chinese Lunch
- The Stadthuys: The Stadthuys, salmon-pink town hall, is believed to be the oldest Dutch architecture in the East and was built shortly after Malacca was captured by the Dutch in 1641. It used to be the official residence of the Dutch Governor. Today, it is the Historical and Ethnography Museum and has many traditional bridal costumes and relics on display.
- St. Paul's church: The ruins of St. Paul's church stand at the summit of St. Paul's hill near the remains of A Famosa fortress. St. Paul's Church was originally a chapel. It was known to the Portuguese in Malacca as the Chapel of the Mother of God (Madre de Deus) or Our Lady of the Hill (Nossa Senhora do Oiteiro).
- Christ Church: Christ Church is the oldest Protestant church in Malaysia and was built in 1753 when the Dutch took over Melaka from the Portuguese. It is painted in coral red with a huge white cross in the middle. It is one of the most attractive heritage buildings in Melaka but has gone through several stages of change under the governing of different colonial powers. You will probably feel like you are visiting a old church somewhere in Europe with the greenery and flowers surrounding the church.
- The Maritime Museum: The Maritime Museum is a Portuguese ship shaped architecture located along the bank of Malacca River. The Flora De La Mar is a Portuguese ship that sank off the Coast of Malacca, but was salvaged by the Malaccan Heritage association. This museum takes visitors back to the 14th century during the Malay Sultanate period, as well as the subsequent Portuguese, Dutch and British eras. There are also displays of other ships that docked at the port of Malacca at the height of its prosperity.
- Malacca river cruise: Malacca river cruise is an exciting way to explore the whole city, its historical sites, the scenic beauty of the place and the simple, yet absorbing, life of its people. The river boat will cruise up the shallow Malacca River from her river mouth to Kampong Morten where the boat makes her return trip. The distance is about 10km from the jetty and takes about 45 minutes to 1 hour.
Day 2
Place & Transport:Melaka
Today's Activities:Cheng Hoon Teng Temple, Kampung Hulu's Mosque, Cheng Ho Cultural Museum, Baba Nyonya Heritage Museum, Sri Poyyatha Vinayagar Moorthi Temple, Jonker Street
Meals:Breakfast, Chinese Lunch, Chinese Dinner
- Cheng Hoon Teng Temple: Cheng Hoon Teng Temple referred to as the "Temple of Evergreen Clouds", is the oldest Chinese Buddhist temple in Malaysia. The temple reflects the architectural style of South China and of the craftsmen from Fujian and Guangdong.
- Kampung Hulu's Mosque: Kampung Hulu's Mosque was built in 1728 during the Dutch Occupancy. Its historic importance coupled with a unique style of architecture, which is an exquisite blend of Sumatran, Hindu and Western architecture, makes Kampung Hulu Mosque one of the top heritage sites in Melaka (and Malaysia for that matter!)
- Cheng Ho Cultural Museum: Cheng Ho Cultural Museum is a privately funded project on the site which is claimed to be ancient location of Guang Chang for Cheng Ho marine fleet. There are thirteen galleries with different themes, but the main attraction is of course Cheng Ho's galleries. It showcases artifacts related to Cheng Ho in the context of Malacca history, the early cultural exchange between the locals and the Chinese, a model treasure ship and navigational instruments, among others displays.
- Baba Nyonya Heritage Museum: Baba & Nyonya Heritage Museum is located at Jalan Tun Tan Cheng Lock and was built in 1896. Originally built as a residence during the Dutch occupancy it presents the way of life of the Peranakans in Melaka at the end of the 19th century. Visitors can see the beauty and uniqueness of the Baba-Nyonya traditional costume, antique furniture and wood-work art. The western influence can also be seen clearly from the antique furnitures made in Italy, Britain and Holland.
- Sri Poyyatha Vinayagar Moorthi Temple: Sri Poyyatha Vinayagar Moorthi Temple is one of the first Hindu temples built in the country at the turn of the century. It was built on land given by the Dutch. It is interesting to note that the Dutch influence in the architecture of the temple and this can be seen in the details and finishing of the entrance, walls, columns, vaulted domes and roof tiling.
- Jonker Street: Jonker Street, also known as Jonker Walk, is located at Jalan Hang Jebat. Entering the street you will find shops selling unique antiques, wood-craved statues, interior and household products, fashionable clothes, colorful accessories and various souvenirs. It is a fascinating place where one can spend a whole day to check out the attractive shops along the street.
Price Per Person in US Dollars

-Top-
Price Inclusions and Exclusions
Price Inclusions:
Entrance Fees:
To scenic spots as listed in the itinerary.

Meals:
All meals as specified in the itinerary.
If the restaurant indicated is not available on the day, your guide will arrange another restaurant from our list of approved restaurants. Breakfast is usually a western style buffet. We endeavor to ensure that a choice of western and Chinese breakfasts is supplied, however there may be occasions when only a Chinese breakfast is available in some remote locations.

Private Transfers:
Transfers between airports, hotels and scenic spots while sightseeing in Kuala Lumpur, Melaka by private air conditioned vehicle with a driver and English-speaking guide (as listed above).
Your comfort is our priority! Click here to get a description of the vehicles that we use for our tours.

Guide:
As outlined in the itinerary an English-speaking guide and driver will be provided in each city, who will remain with you throughout your time in that city. A new guide and a new driver will meet you at each city on your tour, to provide you with the best local knowledge available.

Hotels:
Hotel fees are based on two people sharing one room with twin beds.
All hotels as listed in the above itinerary serve daily western or Chinese breakfast. All rooms are air-conditioned with private facilities unless specified.

Service Charge & Government Taxes:

Insurance
The insurance is China Life Tourist Accident/Casualty Insurance.
Click here to learn more about the insurance coverage and the sum insured.

Luggage Transfers:


Arrangements:
The tour cost includes planning, handling, operational and communication charges.
Price Exclusions:
International Airfare or Train Tickets to enter or leave China.
USA-CHINA/CHINA-USA: China Highlights has negotiated special discount fares (restrictions apply) for selected flights operated by Air China from major US and China gateways. We are able to offer these special deals to confirmed customers. Discount US to China Flights


China Entry Visa Fees.


Excess Baggage Charges.
Passengers holding an adult fare or half fare ticket are entitled to a free baggage allowance of 20kg, for economy class. Total weight of carryon baggage for each passenger may not exceed 5kg. The size may not exceed 20x40x 55cm. More

Personal Expenses:
Expenses of a purely personal nature such as laundry, drinks, fax, telephone calls, optional activities, sightseeing or meals which are not included in the tour itinerary.

Meals:
Any meals which are not specified in the tour itinerary.

Single Room Supplement.