Itinerary
Day 1:
Arrive in Lhasa, Flight not included
Airport Transfer (Lhasa)
Day 2:
The Potala Palace, Jokhang Temple, and Barkhor Street Tour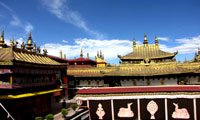 - Potala Palace (1 hour): Former winter home of the Dalai Lama, a vast, awe-inspiring maze of corridors and stairs leading through countless rooms of richly decorated statues, tombs, murals and antiques. You will climb past the White Palace into the Red Palace, where the file of pilgrims offering silk scarves, coins or yak butter to burn in the shrines combine to make this an unforgettable experience. Note: you need to be fit for climbing up the long stairways.
- Jokhang Temple (2 hours): Smaller and more manageable than the Potala, this 4-storey, golden-roofed temple is at the heart of a rich and living Tibetan Buddhism. Many locals pray here regularly; the Temple is surrounded by Barkhor Street and thronged with pilgrims and visitors. Yak butter lamps burn in front of rich statuary that includes the Sakyamuni Buddha brought to Tibet by Princess Wen Cheng in the 7th Century.
- Barkhor Street (2 hours): Built about 1,300 years ago, The Barkhor (pilgrims' circuit) is found in the heart of Lhasa encircling the Jokhang Temple. In the past, it was a designated circumambulation circuit, "a saint's road" in the eyes of Tibetans. Many people call the Barkhor "the window of Tibet" as it exhibits typical Tibetan life. Watch the pilgrims, wearing their local dress from many different parts of Tibet, as they circle clockwise around Jokhang Temple with prayer wheels, or prostrate them near the front gate. Join the locals and visitors to shop for local goods at the colourful stalls, or relax in a coffee shop or tea house to enjoy the passing parade.
Day 3:
The Basomtso in Nyingchi Tour
- Basomtso (2.5 hours): Covering 26 square kilometers (10 square miles), the pristine waters of the green lake reflect the picturesque snow-capped peaks surrounding the lake.Basomtso lies in the Cuogao Village Gongbujiangda County, Nyingchi. It is in the valley of the upper reaches of the Ba River, 50 km from the Town of Gongbujiangda, 39.6 km from the National Highway No. 318 and 370 km from the Tibetan Capital Lhasa.
Day 4:
The Lulang Forest Area and the Gigantic Cypress Wood in Nyingchi Tour
- Lulang Forest Area (2.5 hours): The most impressive is the forest of Tibetan cypresses of about 10 hectares at the Bagyai Village in Nyingchi County at 3,040 meters above sea level.
- The Gigantic Cypress Wood in Nyingchi (2 hours): The giant cypress wood is in the valley of the lower reaches of the Yaluzhangbu River and the Niyang River at the latitude of 3,000 to 3,400 meters. In the Giant Cypress Nature Reserve of the Bajie Township, there scatter hundreds of such huge cypresses only seen in Tibet, which are noted for their huge tree crowns and upright trunks.
Day 5:
Depart Lhasa, Flight not included
Hotel to airport Transfer (Lhasa)