Itinerary
Our goal is let you feel our hospitality and our dedication the moment you arrive. With a private car, driver and guide dedicated to handle your arrival, transfer, and check-in. Sit back and relax and let the sights and sounds pass by.
Day 2:
The Laoshan Mountain and Taiqing Palace Tour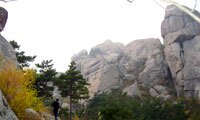 Stroll around the mountainous scenic area with a coastal line of about 90 kilometers to explore the magnificent natural landscapes of the sea, verdant plants, peculiar-shaped rocks, towering mountains, and clear skies. If the weather condition allows, you will see the grandeur of seas of cloud.
Taoism makes Laoshan Mountain famous in China. Visit Taiqing Palace on the mountain and discover more about the mysterious religion of Taoism.
Day 3:
The Xiaoqingdao Isle, Eight Passes, and No. 1 Bathing Beach Tour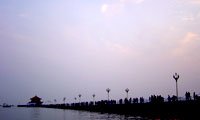 Today you will explore the seascapes of Qingdao.
Feel the gentle sea breeze on the small Xiaoqingdao Isle. While there enjoy the elegant scenery and unfold the history of White Light House, with a history of over 100 years.
Enjoy the vast seascapes in Zhanqiao Pier, a landing stage offering nice positions to appreciate the grand sea scenery. This Qingdao's landmark is regarded as the best place to feel the see in Qingdao.
Explore the unique buildings constructed with styles from more than 20 countries in the Eight Passes, an elegant resort for national leaders in the past century.
Have a leisurely relaxation in No. 1 Bathing Beach, a beach with clear water and soft sands.
As you have come to the end of your vacation, your driver and guide will meet you at your hotel and transfer you to the airport. You guide will assist you with check-in and see you off at the security gate. Enjoy your homebound journey!