Itinerary
Day 1:
Arrive in Sanya , Flight not included
Airport Transfer (Sanya)
Day 2:
Free Day in Sanya (Your arrangements)
- Free Day (Your arrangements): Today is a free day for you. Arrange your own time and have a good rest on the beautiful beach.
Day 3:
The Monkey Island Tour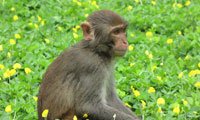 - Monkey Island (2.5 hours): Starts with a ride via the longest over water cable car crossing in China, from which you can admire spectacular views of the area. The island itself is home to 388 kinds of tropical plants and over 100 kinds of animals, including 2,000 rhesus monkeys. Watch these lovely little creatures and communicate with them.
Day 4:
The Nantian Hot Spring Tour
- Nantian Hot Spring (3 hours): It is located at the Eastern Gate of Sanya city, 20 kilometers away from the urban area. As the best Hotspring Resort in China, the resort is a 5-star complex incorporating services of hotspring holidays. It offers impressive pools of different size and shapes and provides many types of hotspring, including coconut milk pool, coffee pool, Chinese herbs pool and alcohol pool. There are also various swimming pools as well as a wide array of beauty treatments and massages available.
Day 5:
The Nanshan Cultural Tourism Zone and Tianyahaijiao Tourism Zone Tour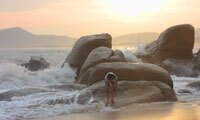 - Nanshan Cultural Tourism Zone in Sanya (2 hours): As a National AAAA Class Scenery Park, the tourism zone provides you with an ideal paradise where you can worship the Buddha, eat the vegetarian food and view the enchanting scenes. There are main scene parks in the area such as the Nanshan Buddhist culture garden, which displays traditional Buddhist culture and contains deep philosophy and moral meaning.
- Tianyahaijiao Tourism Zone (1.5 hours): Located 23 kilometers west of Sanya city, this spectacular place face the endless sea with Maling Mountain at the back, coconut trees and numerous rocks scatter on the sand, the Chinese characters on the rock means "the end of earth and the corner of the ocean" which witness a moving eastern love story of Romeo and Juliet. In the tourism zone, you can stroll on the beach, watch the wave, listen to the sea sound as well as collect shells.
Day 6:
Depart Sanya, Flight not included
Hotel to airport Transfer (Sanya)