Itinerary
Day 1:
Arrive in Shanghai, Flight not included
Your personal guide will meet you at the airport to take you to the hotel and give you ideas about the evening plans, or where to go for dinner.
Day 2:
Yuyuan Garden, Shanghai World Financial Center, the Bund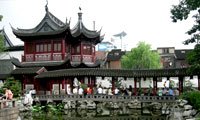 Yuyuan Garden within the walls of Shanghai's old town, long gone, was a private garden built during the Ming Dynasty. It seems much larger than the area it takes due to clever classical design. Yuyuan Market surrounds the garden, narrow paths filled with every possible curio and handcraft possible.
Shanghai Urban Planning Exhibition Hall has a great model of the future designs for the city, and in the Shanghai World Financial Center, a landmark building, you get to admire the present Pudong area from the glass floored viewing deck.
The Bund on the opposite side of the Huangpu River has a stunning collection of old European architecture, especially impressive after night fall, so have a rest in one of the cafes whilst waiting.
Day 3:
Putuo Island: Puji Temple, Fayu Temple, Mountain Putuo Tour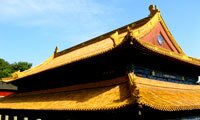 Putuo Island south east of Shanghai has long been a center of Buddhist temples, some hundreds of years old, because Mt. Putuo is one of the Buddhist holy mountains. The surrounding nature is quite wonderful, and makes the experience deeper.
Puji Temple is the largest, and has a history of about 1200 years. Fayu Temple is a few hundred years older and is famous for its ancient architecture, delicate wood carvings and calligraphy of ancient emperors. A cable car makes getting up light work, or you can walk up.
Day 4:
Purple Bamboo Forest, Temple of Guanyin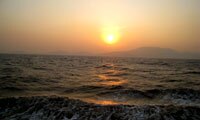 The small Purple Bamboo Forest Temple above the Cave of Tidal Sound has a thousand armed, thousand eyed Guanyin statue.
The Temple Of Guanyin Who Refuses to Leave is on the site of the oldest and most important temple in Putuohan, but a new structure. The carvings of the story on which its name is based decorate the halls. A Japanese monk tried to take a Guanyin statue thousand years ago, but was repeatedly detained by storms, so he deducted that the statue "refused to leave". Therefore he stayed too.
Day 5:
Depart Shanghai, Flight not included
Your guide will take you back to the airport in Shanghai, and makes sure your journey starts smoothly.