Itinerary
Day 1:
Arrive in Shanghai
Your vacation begins the moment you touch down. Your private guide, driver and car will meet you and handle your luggage, transfer, and check-in. We take the stress out of travel, so you can relax.
GOOD TO KNOW
Evening ideas: Your guide will be with you between 9am and 5pm during a typical day. The evenings are yours to explore or relax. You can ask for ideas and recommendations from your guide (an expert on Shanghai). Or see our Discover More page for great ideas.
Free-Time Ideas
Massage and Spa: Relax in style at Taipan Spa, popular with foreigners living in Shanghai. See our Shanghai massage guide.
Street snack discovery: Discover the common food and snacks for Shanghai people in Shanghai's most popular snack street.
Day 2:
Discovery Classic Shanghai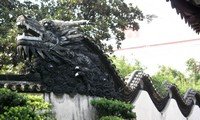 Enjoy a Western breakfast at your hotel before your personal driver and guide greet you in the lobby, prepared with drinks and map, ready to maximize your time. Today you will visit:
Shanghai Museum: It is one of the best museums in China. This ancient-Chinese-pot building allows you to discover Chinese art with more than 120,000 precious relics, including ancient Chinese bronzes, sculptures, ceramics, paintings, and calligraphies spanning 6,000 years. If you are into jade, calligraphy and pottery then you will find plenty of interest there.
Yu Garden: It's a heaven of traditional Chinese architectural features, beautiful gardens and ponds.
The Temple of the City God (next to the garden): The area around the temple used to be a venue for locals celebrating festivals, and now it is a "heaven" for tasting Shanghai snacks.
Lunch is at Old Shanghai Restaurant, a prestigious restaurant specializing in typical Shanghai-style dishes and different flavors from other parts of China. Your guide will help you order.
Shanghai World Financial Center: It is a new landmark of Shanghai. On the top floor of the building (474 meters up) your get an amazing bird's eye view of Shanghai.
Later take a walk on the Bund to discover the classic landmarks of Shanghai.
GOOD TO KNOW
Shanghai Museum — Trip Advisor's 'Traveler's Choice of 2012' Rated 4.5/5.
If the traditional way of touring Shanghai does not attract you, why not try a cool Shanghai sidecar tour. You can contact us to have our travel advisor tailor-make this tour to satisfy you.
Day 3:
Ancient Water Town Discovery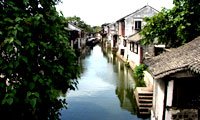 There are several ancient water towns around Shanghai. China Highlights has listed the summary of each ancient water town below. Have a browse and choose your favorite township tp combine with your Shanghai discovery tour.
Please tell your travel advisor the ancient water town you choose when making your inquiry, and then the travel advisor will quote the price for you.
Ancient Water Towns around Shanghai
Qibao Ancient Town: the nearest mini water town to central Shanghai, quite small, various local snacks, no boating
Zhujiajiao Ancient Town: a quaint little ancient town hidden near modern Shanghai, a little bit spoiled by low-grade tourist shops
Qiandeng Ancient Town: a tiny water town with culture, less crowded, less commercialized, generally a more authentic ancient town
Fengjing Ancient Town: the birthplace of Jinshan's farmer's paintings, rich in cultural sights, less crowded, elegant night scenery, about a 1-hour drive from central Shanghai
Xitang Ancient Town: a living ancient town, picturesque, it reflects old China, bustling on the weekends, with boating and relaxing pubs
Luzhi Ancient Town: a pretty little town with less commercialization, authentic, peaceful, it has canal rides with singing boatwomen
Tongli Water Town: the mini oriental Venice, this quaint water town has fewer larger buildings, like a small old-style small water village, as ancient China used to be
Zhouzhuang Water Town: elegant, but the most commercialized, China's number one ancient water town, it's the most beautiful one, dreamily appealing in the morning and at nightfall.
Wuzhen Water Town: charming through commercial restoration, it's a beautiful town for photography, like a traditional Chinese painting, but can be crowded in places' gorgeous night scenery, but loud near the bars
Typicals Times Needed to Help You Choose an Ancient Water Town
Half a day: Qibao, Zhujiajiao, or Qiandeng
A full day: Fengjing, Xitang, Luzhi, or Zhouzhuang
A full day and a night: Wuzhen
For more information on choosing an ancient water town see: Top 9 Ancient Towns Near Shanghai — Which to visit
Shanghai Water Town Map
Your driver and guide will meet you at your hotel and take you to the airport. Your guide will assist you with your luggage and check in to ensure that you will have a stress-free departure.