Itinerary
Day 1:
Flight to Shaoxing
Your tour guide will be waiting at the airport and pick you up to the hotel. He will also help you carry your luggage and check-in.
Day 2:
Shaoxing and Departure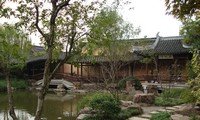 Today you will see:
Lu Xun's Former Residence Lu Xun was born in Shaoxing in 1881 and lived here until he went abroad to study. His house, a Chinese style courtyard abode, has been faithfully preserved here since opening to the public in 1956.
The exhibition consists of photographs, unpublished manuscripts and letters left behind by the writer. There is also an anatomy notebook from his time studying in Japan, a copy of the magazine New Youth in which was first published his famous short story "Diary of a Madman." Visitors are also able to see a copy of entries from Lu Xun's diary the day before he died.
The Orchard Pavilion holds special significance for Chinese calligraphy enthusiasts the world over. As the inspiration for a famous work by calligrapher Wang Xizhi, it has become the site of an annual festival to celebrate the art form. Aside from festival time (the third day of the third lunar month each year), the site is usually quiet enough to enjoy the scenery which has inspired writers for so many centuries.
Shen's Garden witnessed vicissitudes of love between Lu You, a great poet of the Southern Song Dynasty, and Tang Wan, his wife. Nowadays, the purpose of people of visiting Shen's Garden is to feel the wonderful love in this world more than to appreciate the classical garden. In fact, Shen's Garden has become a love-themed park in Shaoxing.
After the tour, the guide will be ready for your departure.