6-Day Tibet Discovery Tour
6-Day Lhasa,Gyantze and Shigatse Tour
Visit Tibet's old Buddhist monasteries, explore the regions' centuries-old religious culture, learn about its unique traditions, get in touch with its people, and enjoy the fantastic natural scenery with our 6-day Tibetan Discovery Tour.
Why 10,000+ Choose Us Every Year:
Centrally Located Hotels
Authentic Chinese Food
Phone Rental / Wi-Fi Package
China Highlights Awarded by TripAdvisor
Highlights
Visit:
Potala Palace
Jokhang Temple
Sera Monastery
Barkhor Street
Drepung Monastery
Norbulingka
The Palgor Chorten
Yomdrok Lake
Tashilunpo Monastery
Experience
Learn the undulating history of Tibet.
Watch local pilgrims as they circle clockwise around Jokhang Temple.
See Tibetan merchants doing business at Barkhor Street.
Enjoy the beauty of Yomdrok Lake
From $1,119 P/P Price detail
Tour Code: XZ-2
Departure Date: You choose
Tour Type: Private car, driver and guide

Welcome to Tibet. Your private guide and driver will be ready to greet you on arrival. A comfortable no-smoking car with an experienced driver will take you directly to your hotel for a good rest. 
Relax and enjoy the fabulous scenery on your way from the airport to your hotel. Your guide will take the hassles away and help you check-in.
Good to Know:
 You are advised to have a good rest at your hotel the first day after arriving in Tibet to acclimatize to acclimatize. Read more on how to prevent/reduce altitude sickness
Don't worry if you can't sleep well the first two days in Tibet: it is a common symptom of altitude sickness. You should be fine the following days.
Hotels – A Lhasa Hotel to suit you. Here are three recommended choices, based on feedback and value:
ShangbaLa Hotel

/ Xinding Hotel

/ Brahmaputra Grand Hotel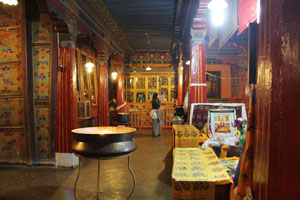 Drepung Monastery
Your well-prepared guide and driver will be waiting for you at your hotel lobby. Drinks and an oxygen cylinder in your vehicle will ensure you keep well hydrated, and oxygenated too if need be. Your guide will look after your well-being.
In the morning you will visit Drepung Monastery. Drepung Monastery was the largest monastery in Tibet. Over 7,000 monks once lived there. Explore the monastery's major halls and walk through its age-old stone alleys, where time seems to stand still. The scenery from the monastery roof to the mountains in the distance is fascinating.
Have a traditional Tibetan lunch or a Western lunch at Lhasa Steak House.
Watch monks debate at Sera Monastery in the afternoon. Monks in their traditional red robes will gather at the monastery courtyard. During the debates they make very interesting gestures. It is a unique experience to watch.
Afterward enjoy a refreshing walk in Norbulingka. Norbulingka is the former summer palace of the Dalai Lama. It is now a serene park with palace buildings, ponds, and flowers. See Tibetans enjoying picnics with their families on fine summer days.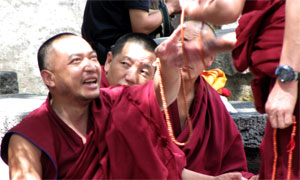 Monks debate at Sera Monastery
Good to Know:
Shoton Festival is held in Drepung Monastery each year in August. The monastery will see huge crowds during the festival. If you want to experience the festival, tell your travel advisor and he/she will help customize a trip for you.
Monk debates takes place from Monday to Sunday. Your travel advisor and local guide are flexible to change the itinerary to ensure you won't miss this highlight.
Recommended activity you may choose to add:
Visit a local family to have an experience of local Tibetan people's life. Please be advised that the condition of a local's house is very primitive. Culture shock factor 5/5.
Evening ideas: Locals get together at the square in front of the Potala Palace singing and dancing at night. It is a good place to get to know local people.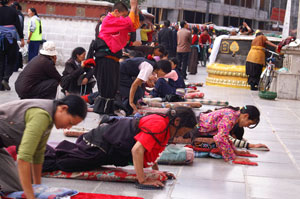 Tibetan Pilgrims outside Jokhang Temple

You will visit the Potala Palace in the morning. Ascend to this majestic building, and see exquisite murals, richly decorated statues, and antiques.
Have lunch at Kyichu Restaurant, which specializes in Nepalese, Tibetan, and Western cuisine. The restaurant's green garden offers a good place to have a cup of tea.
Jokhang Temple is the spiritual heart of Tibetan religion. See pilgrims worship in front of the temple and circle around the temple clockwise.
Rub shoulders with local people and other travelers as you watch Tibetan merchants doing business at Barkhor Street, or join with other travelers to haggle hard over local souvenirs.
Good to Know:
The Potala Palace has many steep steps to climb, so it is better to visit it the third day after you arrive when your body has better acclimatized.
You may need to queue to visit the palace, although your entry time is set and the visiting time is one hour per group.
Your guide knows the best places to take photos of the Potala Palace.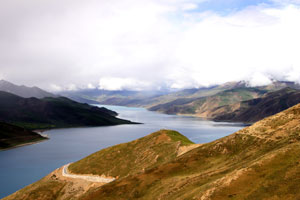 Yamdrok Lake

The breath-taking scenic trip from Lhasa to Shigatse takes about 7 hours, and astonishing scenery is waiting at every turn. Feast your eyes on the picturesque landscape and get your camera ready.
You will see Yamdrok Lake, a fabulous shade of deep turquoise on clear days, alpine glassland, snow-capped mountains, Tibetan villages, deep valleys, and Tibetan nomadic families. 
Palgor Chorten is quite unique from other Tibetan monasteries. It was once a monastery of three different sects of Tibetan Buddhism. The appearance of the monastery is a harmonious combination of stupa and temple. Explore the the monastery to view the beautiful paintings, and watch Tibetan pilgrims prostrating and praying. 
Good to Know:
Prepared with some snacks as it is a long road trip.
Do not drink too much water on the way, as the toilet conditions are very basic, to the point that you may not want to enter it until desperate.
Hotels – Hotel options in Shigatse are quite limited but we will arrange the best available for you, based on feedbacks and value:
Shigatse Hotel

In the morning you will visit Tashilhunpo Monastery, which is the seat of the Panchen Lama. The monastery complex offers grand views — gold roofs shine above the red and white buildings.
Explore its major halls, and learn about its undulating history from your guide.
Afterward you will be driven back to Lhasa. The highway runs along the Brahmaputra River. Enjoy the scenery of turbulent water, high gorges, and mountains. You guide knows plenty of interesting stops on the way.
Your private guide, car, and driver will take you to the airport for your onward flight. Relax as your guide helps you check-in and escorts you to the correct security gate.
Price Per Person in US Dollars

Currency Converter
Normally hotels allow a maximum of 3 adults per room with an extra bed, at extra charge.
Tour price is indicative only, please inquire for a detailed quotation.
More people more discounts.
X

Tour Code: XZ-4
Destination: Tibet
Tour Length: 8 Days
Acommodation: Economy
China Highlights Difference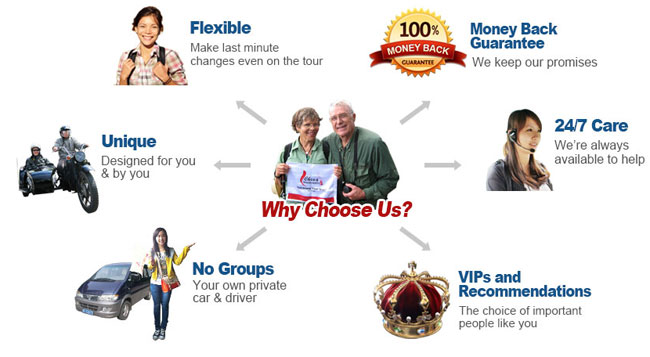 Price Inclusion
Price Exclusion
Centrally Located Hotels
Authentic Chinese Food
Private Cars and Drivers
Private Guides
Airport Taxes and Fuel Fees
Entrance Fees
Phone Rental / Wi-Fi Package
Service Charge & Government Taxes
Insurance
Luggage Transfers
International Airfare or Train Tickets to enter or leave China
China Entry Visa Fees
Excess Baggage Charges
Personal Expenses
Single Room Supplement.