China Tours Search Result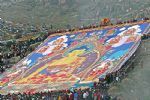 Tibet Festival Tours
Tibet Shoton Festival Tour
(XZ-12-GP)
5-Day Lhasa and Nagqu Tour
Shoton Festival is the most important festival in Tibet. Originally, it was purely a religious festival but it has developed to have a much wider traditional meaning. This festival begins at Drepung Monastery to seeing Tangka, then shifts to Norbulinka for Tibetan opera. This tour gives a glimpse of Tibet's traditions and colorful festival lifestyle.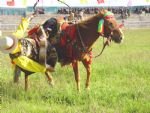 Tibet Festival Tours
Tibetan Nagqu Horse Race Festival
(XZ-7-GP)
6-Day Lhasa and Nagqu Tour
The Nagqu horse race festival is the grandest festival in northern Tibet. This festival is celebrated in August each year. When festival arrives in Nakchu, the people gather dressed in traditional costumes. Tents of every kind are scattered across the grassland like flowers blooming. In this tour you will see marvelous scenery and take in the festival atmosphere providing you an unforgettable experience.
Xinning to Lhasa Driving Adventure Tour
(CHT-TB-15)
7-Day Xining, Golmud, Tuotuohe, Nagqu, Dangxiong and Lhasa Tour
Being one of the highest highways in the world, Qinghai-Tibet highway starts from Xining, Qinghai Province. The highway crosses four mountains, namely Kunlun Mountain (4,700 meters), Fenghuo Mountain (4,800 meters), Tangula Mountain ( 5,150 meters at the mountain pass), and Nyainqentanglha Mountain. Driving from Golmud to Lhasa is a challenge and adventure tour you ever experience.