Itinerary
Day 1:
Arrive in Urumqi, Flight not included
Airport Transfer (Urumqi)
Day 2:
The Erdaoqiao Market and Xinjiang Museum Tour
- Erdaoqiao Market (1 hour): The Erdaoqiao Bazaar is the largest in Urumqi. You'll find a bustling market filled with fruit, clothing, crafts, knives, carpets and almost anything that you can imagine. On Sunday, there are more stalls and more goods to buy than any other day. The old streets around the bazaar are really worth seeing.Here is the most welcomed place by tourist especialy by ladies where they can buy some traditional yugur make up cosmetic.
- The Xinjiang Museum (2 hours): The Xinjiang Uyghur Autonomous Region Museum has collections of silver works of art, stone steles, coins and currency, ceramics, wooden articles, and paintings. One of the highlights is the well-preserved collection of 4,000-year-old corpses, unearthed along the Silk Road. A modern-style building occupying 11,000 square meters, it is located on Xibei Road, 2 km north of People's (Renmin) Park.
Day 3:
The Oytagh Glacier and a Local Keerkezi Family Tour
- Oytagh Glacier (1.5 hours): The spectacular Oytagh Glacier is about 130km from Kashgar and still largely undiscovered by tourists. Access to glacier is via an amazing alpine forest and grassland dotted with flocks of sheep and yurts belonging to local people.
- Visit a local Keerkezi Family (20 minutes): Take advantage of this rare opportunity to experience the life, customs and food of the Keekekezi local people in their ancestral homeland. Have tea and snacks with the family as they welcome you to their world.
Day 4:
The Zhiren Street, Id Kah Mosque, and Kashgar Minority Nationalities Kingdergarten Tour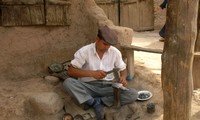 - Zhiren Street (1 hour): It is close to Id Kah Mosque, an old street with an amazing range of goods being crafted for sale by hand , from strictly utilitarian cookware to exotic musical instruments. There's not much light industry in Kashgar, so everything is hand-made or imported from a very distant place. Copper, metal, porcelain, woodwork, jewellery and other goods are seen to be made and you will marvel at incredible devices like the wooden objects that prevent babies from wetting the bed.
- Id Kah Mosque (40 minutes): This 15th century mosque is one of the largest and busiest in China. At midday on Fridays around 10,000 people will gather to pray and study the Koran, and prayer 5 times/day on other days. You'll be asked to remove your shoes before entering the Main Hall, which has traditional Islamic pillars, carvings and rugs strewn over the floors. Women are adviced to cover upper arms and legs, a scarf is not compulsory, but is seen as a mark of respect. This is a must visit place for tourist in Kashgar .
- Kashgar Minority Nationalities Kindergarten (1 hour): These children, 2-6 years old, are mainly Uighur and other local groups. They learn to read and write Uighur and Chinese, as well as dancing and singing. Sometimes they dress in traditional costume for performances, other days you will find them practising. If you take any gifts (such as pencils and books) please give them to the teacher rather than directly to the children.
- Livestock Market (1 hour): Streets near this big market are choked on Sundays with farmers and buyers arriving by donkey cart, truck, bicycle, horseback, ute, motorbike or on foot, with their animals. It's loud, lively and cheerful as they arrive, eat breakfast, set up their animals and check out the action. Cattle, sheep (they definitely look different), goats, donkeys, horses have their own sections; sellers show their animals are "good eaters" (most go as livestock not meat) and the entire experience is fascinating and fun.
Day 5:
Kashgar to Urumqi to Departure City
Hotel to airport Transfer (Kashgar), Airport Transfer (Urumqi)