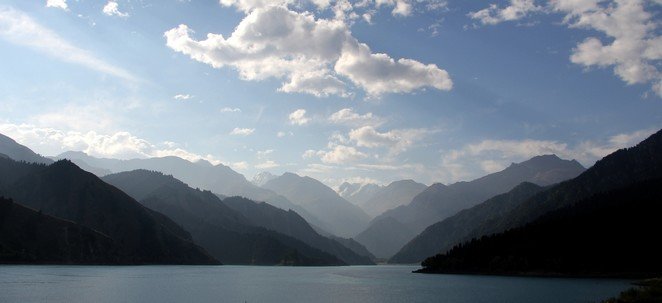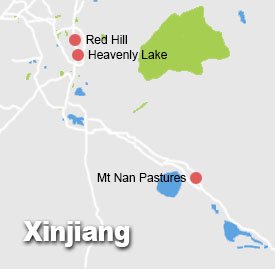 Itinerary
You will receive warm welcome from the guide at the airport on time after arrival. Then you will be transferred to the hotel directly.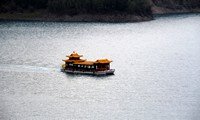 Heavenly Lake is a beautiful blue lake surrounded by mountains. The blue lake water is finely contrasted with steep forested hills, high meadows and snowy Heavenly Mountain peaks behind. The water of the lake is quite peaceful and mirror-like. Taking a cruise boat to get closer to Heavenly Lake is a different and a special place, a unique tranquil world.
Mt Nan Pastures is home to Kazakhs, who continue their traditional way of life, herding cattle and sheep. You can also visit a local house (a yurt) to sample Kazakh food and drink, including butter tea. Xinjiang's pastureland is different from Inner Mongolia's. Here you can experience a mountain pastureland, rather than the large scale flat grassland.
Day 4:
Xinjiang Uyghur Autonomous Region Museum, Red Hill Park, Erdaoqiao Market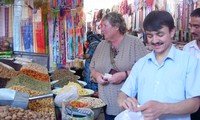 Red Hill is a symbol of Urumqi; it is called as "the eyes of Urumqi ". The body of the mountain is made up of aubergine rock. It is 1.5 kilometers long, one kilometer wide and 910 meters above sea level. When the sunlight hits the hills of Hongshan, the rocks of the mountain reflected a bright red color, so that people call it Hongshan, meaning Red Mountain.
Xinjiang Uyghur Autonomous Region Museum has collections of silver works of art, stone steles, coins and currency, ceramics, wooden articles, and paintings. One of the highlights is the well-preserved collection of 4,000-year-old corpses, unearthed along the Silk Road.
Erdaoqiao Bazaar is the largest in Urumqi. You'll find a bustling market filled with fruit, clothing, crafts, knives, carpets and almost anything that you can imagine. On Sunday, there are more stalls and more goods to buy than any other day. The old streets around the bazaar are really worth seeing.
As your tour concludes today, the driver will escort you to the airport. And the guide will help you with all the formalities.