Why use local restaurants?
Tour Hotels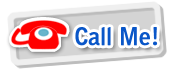 Why use local restaurants?
"Discovery You Way" is our motto, and discovering Chinese food can be one of the great adventures and most pleasurable parts of any China trip. Food is an extremely important part of Chinese culture with food and eating being the center of many aspects.
China Highlights select popular local Chinese restaurants in the tours, which offer customers an authentic Chinese food experience.
Why is the difference between local restaurants and tourist restaurants?
| Local restaurant | Tourist restaurants |
| --- | --- |
| Choose your favorite food with tour guide 's help | Usually don't have chance to choose your own food. |
| Taste the popular food in different cities. | Perhaps eat same food in each city. |
| Experience the dining atmosphere like local people. | Seat with other tourists, not a real Chinese food experience. |
| Spend your own time on dining, no disturbance | Salesman cooperated with the restaurant may promote their products during dining time. |
| Food quality and amount are assured. | Food quality and amount usually can not meet customer's standard |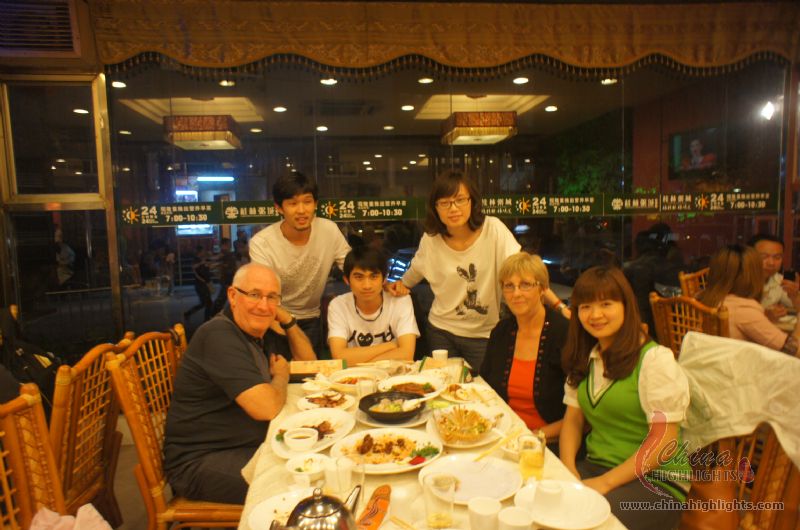 Tips:
1. Mixing it with the local means that you get great food but it also means that you experience all aspects of the local lifestyle. Chinese people show their enjoyment and can be very loud during their meal. Most restaurants do not have non smoking areas and smoking while eating is very common. The rest rooms are usually Chinese style. The tour guide or travel advisor is always ready to help or make adjustments if some aspects become too much.
2. On a rare occasion China Highlights has to use a tourist restaurant. This is done when a scenic spot is far away from the city or no suitable local restaurants are available. Please understand that this is only done when no other option is available.
3. We cover the cost of 1 glass of beer or soft drink. Customers are required to pay for additional drinks, wine and spirits.
Special Food Experience:
There are some special food arrangements in our luxury tour, which give your different authentic Chinese food experience.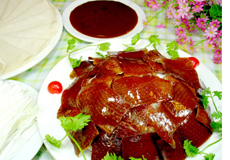 Beijing Roast Duck
Peking Duck is probably China's most famous dish and Qianmen Quanjude Roast Duck Restaurant is renowned theirs. This is one of the oldest restaurants in the capital, dating back to 1864, and they serve great Peking duck.
Recommended Restaurants: Qianmen Quanjude Roast Duck Restaurant, Hepingmen Quanjude Roast Duck Restaurant and Roasted Duck at Fangzhuang
Price: CNY60-CNY150 per person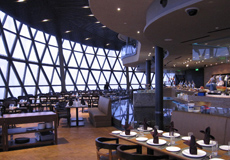 Shanghai Oriental Pearl Revolving Restaurant
Located on top of the Shanghai Oriental Pearl TV Tower, Oriental Pearl Revolving Restaurant is the highest one in Asia, which provide a amazing view of shanghai The buffet features hundreds of Chinese and western dishes while the restaurant revolves once every two hours.
Tel: 021-58797138
Price: CNY250 per person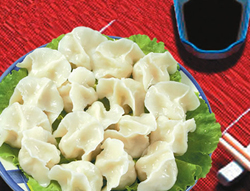 Tang Imperial Banquet & Show
A wonderful performance inspired by court songs, dance and music from the Golden Age of the Tang Dynasty, in a world class theatre restaurant. It's colorful, authentic, beautifully staged, and the costumes are exquisite. Combined with a delicious dinner, the show provides a glimpse into the prosperous period when Chang'An (Xi'an) was the capital of China, and the arts flourished as never before.
Tel: 029-8782 2222
Price: CNY350-CNY1000 per person
For more Chinese food information, please click our guide to Chinese food.