Itinerary
Your tour guide, driver and car will pick you up from bus or train station. Transfer to hotel and check in.
Day 2:
Wutai Mountain Scenic Area and Taihuai Temple Forest Tour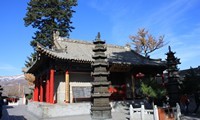 The beautiful scenery of Mt. Wutaishan is a masterpiece, nature at its most exquisite. There are five glorious peaks: Wanghai Peak in the east, Guayue Peak in the west, Jinxiu Peak in the south, Yedou Peak in the north, and the central Cuiyan Peak. This mountain, one of the four holy Buddhist Mountains, is said to be the dwelling place of Manjusri Bodhisattva. 360 temples were built here dating back to the Tang Dynasty (618-907) and 47 of these still exist.

Nanchan Temple and Foguang Temple are among the major temples of Wutaishan. Nanchan Temple was built in 782AD. Its main hall is the earliest preserved timber-structured building nationwide, built in the Tang Dynasty. The sculptures of the Tang Dynasty are masterpieces, and have significant historical and artistic value. Foguang Temple has a long history of over one thousand years, this temple is very famous for the numerous precious historical and cultural relics inside. As Foguang in Chinese means 'Light of the Buddha', this temple has also been well known in Asia as Buddha Light Temple. Great East Hall, which is the main building in the temple, was built in the year 857AD in the Tang Dynasty (618AD-907AD). It is the second oldest ancient construction in China with a complete wooden structure.
Day 3:
Wutaishan Departure
Our guide and driver will transfer you to Bus or Train Station.