Itinerary
You will be picked up from your arrival station by your private guide and driver.
Day 2:
The Leitai Han Tomb, Wuwei Wen Temple, and Haizang Temple Tour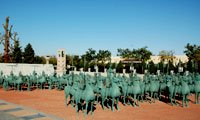 Explore the Leitai Han Tomb to see the real bronze galloping horse, the symbolization of Chinese tourism. It is an large ancient brick tomb of the late Eastern Han Dynasty (25—220). There you can learn about the buried custom in that time.
Explore the profound Confucianism in Wuwei Wen Temple, a Confucius temple with a history of more than 500 years. The palace-styled architecture there is worthy of appreciation.
The Haizang Temple was first built over 1,700 years ago, and it became a temple of Tibetan Buddhism. The traditional Chinese buildings there together with the surrounding forest form picturesque scenery. Your guide will unlock the stories of the status inside the temple.
Your guide and driver will pick you up at the hotel and transfer to your departure station for your next destination.