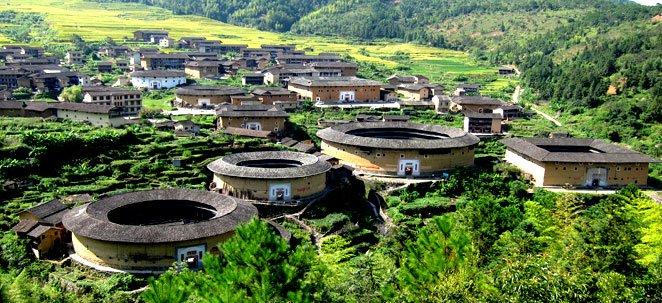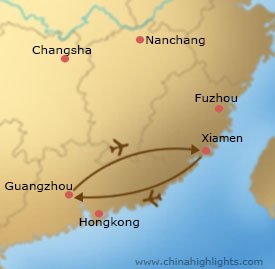 Itinerary
Day 1:
South Putuo Temple, Hulishan Fortress, Kah-Kee Park Tour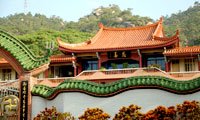 South Putuo Temple from the Tang Dynasty but rebuilt in Qing Dynasty is very famous for its collection of Buddhist relics, and interestingly also for a kind of a pudding. The Wulao Peak nearby gives a sweeping view over the port and the whole city.
Hulishan Fortress was built in 1891 for coastal defense and houses over 50 cannons from the Ming and Qing Dynasties to a 50 ton German machine. Other military facilities and weapons complete the exhibition. Kah-kee Park has traditional gardens by the sea side; it commemorates one of the most famous sons of Xiamen, a philanthropist and a financial force during the tumultuous years in the beginning of the 20th century. What could be a more perfect way to end your first day in this relaxing seaside town.
Day 2:
Chuxi Earthern Buildings Tour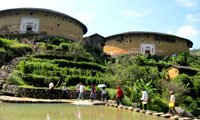 Today we will take you to see the most untouched Fujian earth houses, at Chuxi. The Chuxi Earthen Buildings consist of five traditional round fortified houses as well as several square ones. The mountains create a great backdrop for these intriguing structures. Ask your guide about the building process; ingredients as varied as egg whites and brown sugar were used in the process. A visit to the local primary school during the week is also possible, if you are interested.
Good to Know: Chuxi Earth Houses are less commercialized compared to the other two popular earth houses easily accessible from Xiamen. Interestingly, during the cold war CIA in the US mistook the structures for missile silos. There is a viewing platform on the mountain, offering amazing sunrise and sunset shots over the cluster.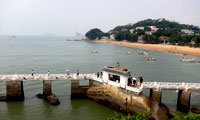 Gulangyu Island is filled with colonial architecture, and is just 10 minutes by local ferry boat from Xiamen. No private cars are allowed, which makes it a haven renowned for its beaches and narrow alleys with great snack foods to savor whilst looking over the sea. All the local deliveries are transported by hand pulled carts, a unique sight in China.