Itinerary
On arrival to Xi'an, your guide will meet you and take you to your hotel. Rest of the day is free for you to explore.
Good to Know: Feel free to clean insights from our local guide, they are happy to help you buy tickets for shows and offer advice on where to eat.
Day 2:
Big Wild Goose Pagoda, Terracotta Warriors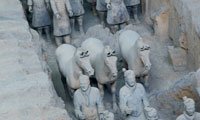 The Terracotta Warriors with their thousands of uniquely decorated statues and the famous Buddhist pilgrimage place Big Wild Goose Pagoda start the day. Enjoy lunch at Minjianwagang Restaurant (A La Carte) include savoring their signature soup, as well as Sichuan and Hunan cuisine.
In the afternoon, visit to Muslim Quarters of Xi'an takes you to a 500 meters long avenue paved by blue stones are dotted with many unique stalls, souvenir shops, cafés and bars, mostly run by Muslim people. In the evening after dinner of Xi'an Hot pot at Tangyuegong you are whished off to enjoy the Tang Dynasty show at Tang Yuegong.
Meals:Lunch, Dinner
Day 3:
The Shaanxi Historical Museum and Ancient City Wall Tour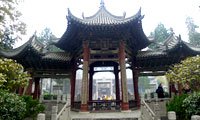 Shaanxi Historical Museum, one of the main museums in China, exhibits numerous unearthed cultural relics telling the story of developing society. Visit to the City Wall, an extension of the old Tang Dynasty structure and the best preserved of its kind in China, gives you great views of the city on either side. You can walk, rent a bike or take an electric cart around the full 14km circuit. Lunch includes tasting the Qianzhou Four Treasures originating from Tang Dynasty at Qianzhou Restaurant.
The Forest of Stone Steles Museum houses a fascinating collection of inscribed stone tablets (steles) spanning a period of over two thousand years (Han-Qing Dynasties, 206BC-1911). In the evening enjoy the Dumpling Banquet for dinner.
Meals:Lunch, Dinner
The day is your own until you are ready to be transferred to the airport for your departure.