Itinerary
Day 1:
Flight to Yangzhou
You will meet your tour guide at the airport and transferred to the hotel on a private car. The guide will help you check in.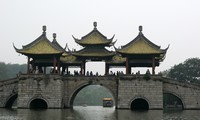 Slender West Lake runs along both sides of a remarkably narrow lake which snakes through the northern part of the city. The scene resembles a traditional Chinese scroll painting that contains not only natural scenery but also displays the unique Yangzhou garden style. Touring around this lake, you can not only appreciate the stunning natural scenery, but also see Chinese traditional buildings.
Geyuan Garden is a classic example of Yangzhou's private gardens from the Ming and Qing dynasties. It is famous for two things - its excellent collection of different types of bamboo and a garden design based on each season of the year. Heyuan Garden looks spacious and open due to its clever layout. The Heyuan Garden is Chinese architectural art with some Western influences. The iron for railings and window glass were imported from abroad and the houses are also decorated with valuable western items.
As your tour ends today, the guide will get ready for your departure.