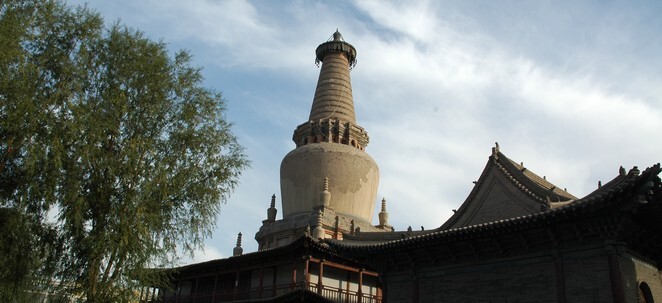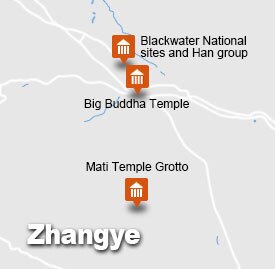 Itinerary
You will be picked up at the airport on time by your private tour guide and driver to the hotel. And then the guide will help you check in.
Day 2
Zhangye - Grand Buddha Temple, Wooden Tower of Sui Dynasty, Site of Black Water State and Tomb Complex of Han Dynasty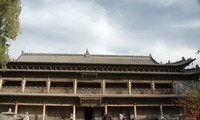 Grand Buddha Temple has the largest indoor reclining Buddha of China – the Nirvan Buddha lies in this temple, which was built in Western Hsia period (1098). It is recorded that the premier of Western Hsia once discovered a Buddha covered by a bluish-green tile, thus the Grand Buddha Temple was initially built. Originally built in the Sui Dynasty and restored in 1926, the wooden tower is 9 storied with a height of about 40 meters. It is an essence among the wooden towers in China. Buddhist relics were once stored in this tower. 12.5 kilometers in the south-west of Zhangye, Site of Black Water State and Tomb Complex is an ancient cultural site of the New Stone Age and a cultural relic under provincial protection. You can see some exquisite decorations in the tombs, which reflect ancient Chinese death culture.
Day 3
Zhangye - Mati Temple Grotto, Yugu Ethnic Family Visit
Mati Temple grotto is a scenic spot which embodies the art of grotto, the scenery of Qilian Mountain and the culture of Yugu Minority. This is a famous scenic spot 65 kilometers south of the city, which combines mountain views and cave art, small monasteries, villages and folk customs of the Yugu minority group. Enjoy the special culture and traditional lifestyle of Yugu ethnic group, their milk tea, hand-grab mutton, alley wine and their dance in the tent.
As your tour of Zhangye concludes today, your private driver will take you to the airport on time with the guide. You will be without stress that your guide will help you check-in and get all formalities done. Goodbye and we are looking forward to your satisfaction and serving you again.