Features of Ancient Chinese Architecture
Flexible Structure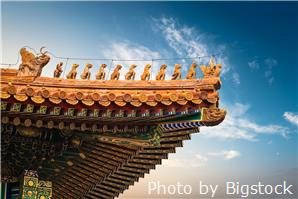 The Eave of the Ancient Palace in the Forbidden City
The ancient buildings use wood as chief material. And the components are mainly columns, beams, and purlins, which are connected by tenons and mortises. As a result, the wooden structure is quite flexible. There is also a unique design only found in China named Dougong (a system of brackets inserted between the top of a column and a crossbeam), which is one of the most important character in ancient Chinese architecture.
Wonderful and Elegant Appearance
The ancient Chinese architectures are greatly praised for the elegant profile and varied structure, for example, the overhanging eaves, upward roof corners, and different shapes of roofs. The unique outside has not only fit and satisfid the practical functional need of building, but also exhibited its wonderful appearance. It is a good model of a combination of practicality and beauty.
Regular Layout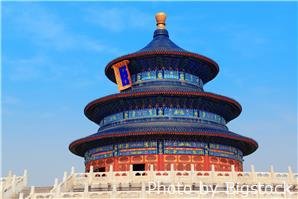 Temple of Heaven
In China, buildings such as palaces, temples and folk houses are basically in a combined complex. The building complex can be divided into buildings centered on different courtyards and then into single rooms. Most of the buildings strictly follow the axis-centered principle with symmetrical wings. So the buildings look symmetrical on the left and right sides. Such layout of ancient Chinese architectures has reflected the aesthetic standard of harmony and symmetry in ancient China.
Gorgeous Ornaments
Architects in ancient China pay special attention to the ornaments either from a whole or in a specific part. They use different colors or paintings according to the particular need or local customs. Some buildings use multiple colors to make strong contrast. Others use soften color to make it simple but elegant. Besides the stress on the colors, ancient buildings attach the same weight on decorations, furnishings inside and ornament outside. Carved beams, painted rafters, various patterns, inscribed boards, couplets hung on the pillars, and wall paintings are used to add to the colorful and beautiful style. Stone lions, screen walls, ornamental columns, as well as flowers are used in the outside of a building to make ornaments.
Related Readings

China Highlights
Questions and Answers About Features of Ancient Chinese Architecture
Madhansingh
2012-08-06
Show Answer
any other reasons inside of choosing the painting colours.
Hi Madhansingh, there are 2 reasons, good-looking & power-symbolizing.
Yellow, Red and Green are popular colors with Chinese people.
Yellow symbolized royalty and power of the throne.
Red is the Chinese national color and represents happiness, beauty, success and good fortune.
Green symbolizes money.
Whitney Liao replied on 2012-08-07
James
2012-07-03
Show Answer
What are the names of dynasties that encouraged architecture
Dear James, That's the Sui and Tang dynasties, and there is a famous architect named Yu Wenkai in Sui dynasty, who took in charge of the construction of the new palace Daxing City and the east capital Luoyang City, which set up an example on architecture to the following dynasties. And there are lots of ancient buildings in Beijing and Xian, if you have interest in it, I'd be very glad to make a tour for you. Regards, Whitney whitney@chinahighlights.net Whitney Liao replied on 2012-07-04
mimi
2012-03-21
Show Answer
can u please say when it was built
Hi, which building? Ruru Zhou replied on 2012-03-23
Lilly
2012-02-25
Show Answer
What is the name of the the building in the large picture? Thanx!
It is Pavilion of Prince Teng, which is located in Nanchang City, Jiangxi Province (江西省南昌市). Lynn Ye replied on 2012-03-02
margarita
2011-11-30
Show Answer
does this has a name?
Dear margarita, I am sorry I can't see the object and I don't know what "this" you mean, so I am afraid i could not give you an exact answer to your question. Candice Song replied on 2011-12-05
Hello. The image of this page (http://www.chinahighlights.com/travelguide/architecture/features.htm) is Tengwang Pavilion, in Nanchang City, Jiangxi Province in Central China. It was built in 653, and it is one of the three famous pavilions in China together with Yueyang Pavilion in Yueyang City, Hunan Province, and Huanghe Pavilion (Yellow Crane Pavilion) in Wuhan City, Hubei Province. Mia Yang replied on 2011-12-05
April Offer $25 Coupon
Send your inquiry before Apr. 30, 2014, and we will email you a $25 coupon.
The coupon is valid till Dec. 31, 2014, for paying tour packages worth $250 or up.
The coupon cannot be used for paying flight tickets, train tickets, hotel rooms and day trips.
Travel Advice or Question? Ask us here