China in Winter
Visitors can immerse themselves in winter activities and revel in ice skating and snow festivals. Travelers can also choose to travel to milder cities and celebrate Christmas, New Year, and Chinese New Year. Whether you are interested in winter sports, sightseeing, or holiday shopping, you have numerous options for winter trips.
The four seasons are a common theme in traditional Chinese artwork and each season appears equally beautiful. Winter in China is typically chilly, but tropical China is still warm.
Winter in Beijing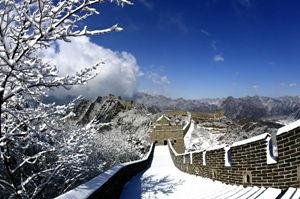 The winter scenery of
the Great Wall
.
Beijing experiences very cold, but usually dry, long winters. Winter begins in early November and extends into March. Average temperatures are below freezing, but frequent sunny days are perfect for sightseeing. The capital typifies northern China winter weather.
Lakes, canals, and fountains are frequently frozen solid. Ice skating is very popular at the lakes in Beijing's parks. There are even bicycles designed to be ridden on the ice.
The nearby sections of the Great Wall remain open to visitors during the wintertime. Tourists enjoy climbing the Great Wall and viewing the winter landscape in peace without the crowds.
Winter in the Northeast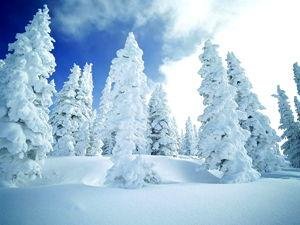 The winter scenery of Harbin.
Winters in northeastern China are long, cold, and snowy. The province of Heilongjiang borders Russia and its capital, Harbin, is called "Ice City." January temperatures average 10 °F, -12 °C, during the day.
Harbin hosts ice and snow art festivals every winter. The tradition of ice lanterns dates back hundreds of years. The Ice Festival fills Zhaolin Park with magnificent ice sculptures. Sun Island hosts a Snow Sculpture Exposition and is the location of the largest indoor ice and snow art museum.
Winter trips to Harbin should also include the Siberian Tiger Park and nearby ski resorts, and a trip to see the enchanting rime scenery of Jilin.
Winter in Shanghai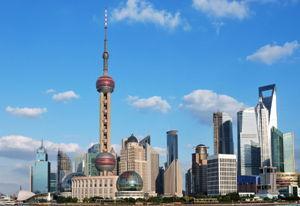 Shanghai
Shanghai experiences milder weather than Beijing. The winter season is from December to February. Winters are moist, but there is little snow and days are overcast. Temperatures usually stay above freezing, but will feel colder due to humidity. This is typical of southern China winter weather.
Tourists can enjoy popular Shanghai attractions in the wintertime as long as they pack plenty of warm clothing and reserve heated hotel rooms. Chinese New Year celebrations towards the end of January, or as late as March, include the bell-striking ceremony at the notable Longhua temple, fireworks displays, and the lantern parade.
Winter in Hong Kong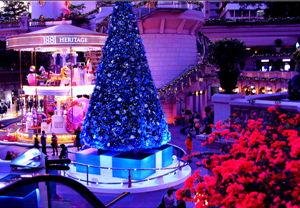 Christmas celebration in Hong Kong.
Hong Kong's winters are comparatively mild, even warm. Visiting during the cooler winter season is a welcome alternative to trips in hot and humid summers. Average winter temperatures are around a moderate 60 °F, 16 °C, and there is very little rain.
Hong Kong's role as a global, sophisticated city has led it to embrace Western Christmas celebrations. Each year at Christmas skyscrapers are lit with Christmas lights and lavish displays are set up in shops and public spaces. Restaurants serve traditional Christmas fare and stores are filled with shoppers.
Winter in the Southeast
The beautiful night view of Guangzhou.
Like in Hong Kong, winter temperatures in the southeast are quite moderate, but feel chillier due to the humidity. The winter season in places like Guangzhou, the capital of Guangdong Province, is very short, usually lasting from late December through January.
Winters in Guangzhou are famous for flowers. Flower stalls and markets appear throughout the city. Bright red Kapok blossoms, the official flower of Guangzhou, bloom all over.
Less-Visited Winter Destinations
Winter in Xinjiang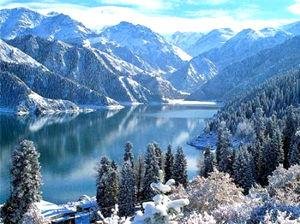 The winter scenery of Xinjiang.
Northwestern Xinjiang Province is China's Wild West. The stunning mountains and deserts of Xinjiang Uygur Autonomous Region are featured in many Chinese films. Winter scenery includes snowy hills and valleys and frozen lakes.
Winter in Xinjiang is suited for adventurous travelers who are prepared for the bitter cold and snowy roads. The dry winter lasts from November to March and temperatures from December through February hardly peak above freezing.
Xinjiang encourages winter tourism and many events are held, including the Ice & Snow Tourism Cultural Festival, which includes winter sports competitions, and the Ulunggur Lake winter fishing festival.
Winter in Tibet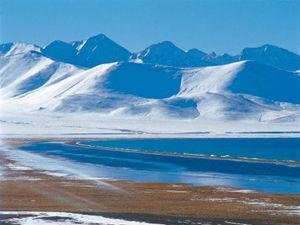 The winter scenery of Tibet.
Winter tourism in Tibet is a well-kept secret. The Northern Tibet Plateau is freezing cold year-round but winter in southern Tibet is not nearly as cold as expected. January temperatures in Lhasa average a high of 48 °F, 9 °C.
Winter is a great season to experience Tibetan culture as not only are there fewer foreign and fewer Chinese tourists, but many Tibetan farmers travel to Lhasa during the wintertime.
Winter days are often sunny. Nights are much colder. Use caution and take time to acclimate as the thin Tibetan air is even more thin during the winter.
Winter in Inner Mongolia
Not surprisingly, winters in Inner Mongolia are long, cold and feature blizzards. Winter lasts five months, but there are plenty of activities such as skiing, children's sledding, and reindeer sleigh rides.
Several winter festivals take place in Inner Mongolia, such as Winter Nadam Fai, featuring bonfires, horse races, archery, wrestling, and Mongolian folk dance.
Winter Tours of China
Our winter tours showcase the best of China in the cheaper low season. If however you would like to do something a bit different, all you need to do is let us know and we can tailor-make an individual China winter tour for you.
Related Links

China Highlights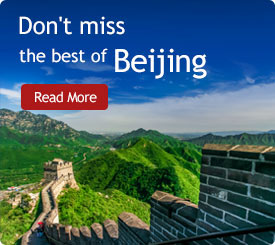 The Most Popular Articles
The Latest Travel Articles