Naked Marriage in China
Naked marriage refers to a marriage without buying a car, a house, a wedding ring and even holding a wedding party; the couple just gets married at a registry office. Marriage has always been a cardinal issue for Chinese people since ancient times, and a ceremonious wedding party directly symbolizes the family's high social status. However, the naked marriage has prevailed in China in recent years, and has become the most fashionable wedding style for those who were born after the 1980s.
Social Background of Naked Marriage
Under the influence of the global financial crisis, the naked culture has become more and more popular in China since 2008, ranging from two college students from Tsinghua University streaking on the street to the naked bathing beach of Sanya and then to the naked anchor doing push-ups, thus the netizens have created a new phrase – naked marriage.
Unlike the traditional Chinese family conception towards marriage, the modern young people place more emphasis on independence and marriage freedom, so the importance of a wedding party is greatly weakened. At the same time, a person's marriage status is considered to be one of the privacy among the white collars. Under such circumstances, the naked marriage is in its infancy, and it not only shows the modern people's new understanding towards marriage, but it also reflects people's new notions toward materialism in the modern world.
The Causes for Naked Marriage
Why do young Chinese people prefer naked marriage in these modern times? There may be lots of reasons, two of which are the most important ones. One is out of social pressure, and the other is out of the pursuance of pure love.
Social Pressure
It's the peak time for love and marriage for those who were born after the 1980s; however, the competitive social environment leaves most of them without a car, a house and savings, therefore, they can do nothing more but to choose a naked marriage.
According to a new poll, over 50% of the young people who are turning 30 have no cars and houses, and the skyrocketing house prices make them feel powerless and frustrated.
Pursuing Pure Love
Those born after the 1980s consider naked marriage as a manifestation of their pure love, whose logic is as follows: a happy marriage has nothing to do with a ceremonious wedding party, and it lies in two hearts that beat as one. If you choose the right person to marry, you two will be happy ever after even without a wedding party or a honeymoon trip.
The Social Influence of Naked Marriage
The sociologists state that naked marriage is more often than not a helpless choice, and the men choosing naked marriage are far braver than the boomerang men. From this point of view, naked marriage is worthy of advocating among young people, because it fully reflects the psychological features of modern people, who are daring to challenge the traditional marriage conception and pursue their practical lifestyles independently.
The style of naked marriage gets respect and understanding from the elders as well, which demonstrates that the social conception of Chinese people is increasingly open; the Chinese people have more choices in terms of marriage, and there's a noticeable improvement in the modern society.

China Highlights
Questions and Answers About Naked Marriage in China
April Offer $25 Coupon
Send your inquiry before Apr. 30, 2014, and we will email you a $25 coupon.
The coupon is valid till Dec. 31, 2014, for paying tour packages worth $250 or up.
The coupon cannot be used for paying flight tickets, train tickets, hotel rooms and day trips.
Travel Advice or Question? Ask us here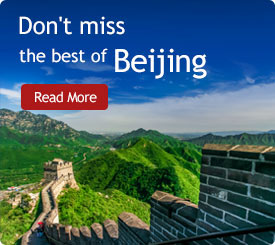 The Most Popular Articles
The Latest Travel Articles