Planning a Tibet Tour in 2013
Tibet is on our list of Five Recommended China Tourist Destinations for 2013, and our predictions of a relaxation of entry regulations were correct. Our advice is still to apply early and have alternative plans.
Festival Times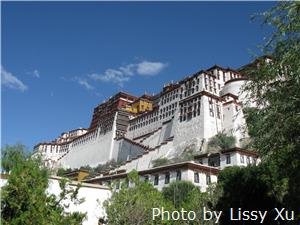 Potala Palace
Tibet was closed again for most of February and March 2013 for the politically sensitive time of Tibetan New Year, including the time of the Monlam Prayer Festival and the Butter Lamp Festival. Winter is not a recommended time for visiting Tibet anyway because of the harsh weather conditions.
Tibet's summer time is a "sea of festivals", with thangka unrollings, horse races on the grasslands, and other significant Tibetan Buddhist events. See more on Tibetan Festivals and Tibet festival dates for 2013.
Tibet Entry Permit Policy
Tibet's Entry Permit requirements are to be relaxed from April 25th, 2013, allowing groups of any size and nationality to enter Tibet, but a Tibet Entry Permit is still required. If you travel with China Highlights we will make all necessary arrangements for the Entry Permit.
The only things that may inconvenience your Tibet plans now is a lack of train tickets or plane tickets at the peak times, the Alien Travel Permit for remoter areas, or a doctor's assessment saying you should not go high-altitude areas.
Tibetan Alternatives — like Tibet, but more offbeat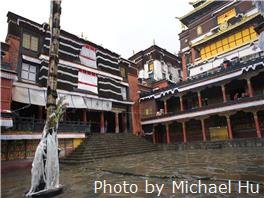 Tashilunpo Monastery
The reality is that there is still some difficulty in touring Tibet. Though it is becoming much easier in 2013, flights/trains are limited, remoter parts of Tibet, like Shigatse, require an Alien Travel Permit, and altitude sickness may be an issue. Therefore it is worth considering our alternative tour options.
Provinces bordering Tibet (Qinghai, Sichuan, and Yunnan) have many of the attractions Tibet does. The following places will be less-crowded, less high (less risk of altitude sickness), and less expensive.
We are confident that we can tailor-make you a tour to include a true Tibetan flavor even if you can't get to Tibet for some reason.
Tibetan Culture
Shangri-la in Yunnan may not have the Potala Palace, but it does have Tibetan Buddhist monasteries, Tibetan villages and people.
Ganzi's Dege Scripture Printing Lamasery near the Tibet border is storehouse of Tibetan culture.
Tongren in Qinghai Province may not have monasteries as famous as Ganden or Tashilunpo, but it is the birthplace of Tibetan thangkas, and has some notable Buddhist temples/monasteries.
Tibetan Landscapes
Mt. Everest
Sichuan Province may not have Mount Everest, but Ganzi Tibetan Autonomous Prefecture does have Mount Gongga, the most easterly 7,000m+ peak in the world, and a beautiful scenic area in Hailuogou Forest Park, to appreciate it from.
Nine Village Valley (Jiuzhaigou) may not have Lake Namtso, but it's placid mountain lakes, and the rainbow-colored waters in its unspoiled valleys, are every bit as inspiring.
Characteristically Tibetan landscapes of Yunnan's Shangri-la include sacred snowy mountains, tranquil lakes, glaciers, and high-altitude valleys.
See our most popular Tibet tour for inspiration: Four-Day Essence Tour of Lhasa
Related Pages

China Highlights
Questions and Answers About Planning a Tibet Tour in 2013
hayden
2013-06-05
Show Answer
Hello i am american and my best friend is romanian. will we have any issues getting permits to travel to tibet (lhasa). the soft sleeper beds seem almost impossible to book. thanks.
Dear Hayden, There is no limit about the amount of the member in your group, but your nationality should be the same. According to your situation, we could not apply for the Tibet permit for you. Furthermore, it is difficult to buy the train ticket into Lhasa, I suggest you take a train out of Lhasa. Lussie Lu replied on 2013-06-05
Paula
2013-05-05
Show Answer
Hi there, My friends and I are interested in a tour to visit the Tibetan areas. We are thinking that we would like to take the train up to Lhasa, visit Shigatse as well visit Qinghai. We will already be in China, as we will be visiting friends in Chengdu. We are thinking around 12-14 days in this area. Can you advise us with our trip plans and an estimated cost. Thank you. Look forward to hearing from you.
Hi Paula, we are more than happy to help arrange this tour for you. In order to quote the exact price, please kindly let me know:
1. How many people will be traveling with you?
2. When to start the tour?
3. What is your entering and departing city?
4. Do you need us to include a tour in Chengdu for the 12-14 days?
5. Class of hotel you would like to stay in: 3/4/5 star?
After your further information, I will send you a detailed itinerary, okay?
Whitney Liao replied on 2013-05-06
April Offer $25 Coupon
Send your inquiry before Apr. 30, 2014, and we will email you a $25 coupon.
The coupon is valid till Dec. 31, 2014, for paying tour packages worth $250 or up.
The coupon cannot be used for paying flight tickets, train tickets, hotel rooms and day trips.
Travel Advice or Question? Ask us here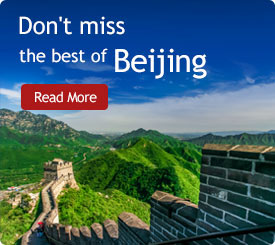 The Most Popular Articles
The Latest Travel Articles