Challenge Yourself with China's Six Cliff Paths
Want to see picturesque natural landscapes with cliffs? The six cliff paths below can make your wish come true.
These cliff paths were built along the faces of cliffs; some sections are simply chains and several holes in the cliff (for footholds). Walking these paths, you can appreciate broad vistas of natural landscape, see "hanging" coffins and other wonders, and challenge yourself at the same time.
The following six cliff paths are listed according to their degrees of challenge and popularity. If you are interested in them and plan to pay a visit, you can contact us to have us tailor-make a tour of China for you, include your favorite China highlights.
1. Changkong Cliff Path on Mount Hua: the Most Challenging Cliff Path with Magnificent Scenery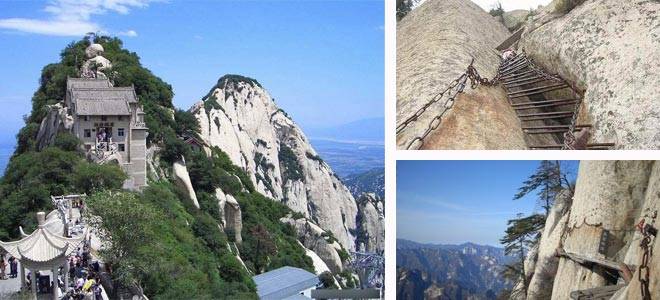 Mount Hua has been renowned for its steepness since ancient times. This steepness has aroused a lot of people's sense of achievement in conquering it.
There is a wooden cliff path: Changkong Cliff Path on the face of south cliff built by a Taoist in the Yuan Dynasty (1271–1368) for his religious pursuits. The construction of the path cost him 40 years. Now, the path has been strengthened with some security measures. Visitors need to rent a safety barness (30 yuan) before negotiating the path.
Huashan Scenic Area consists of four parts: Xiyue Temple, Yuquan Monastery, Mount Hua, and Xian Valley. A ticket (180 yuan) is valid for 48 hours. It is very strenuous to travel the whole scenic area in 48 hours on foot, but there are cableways. The landscapes there are phenomenal: don't forget to take in the scenery while conquering the steepness.
Mount Hua is only about 120 kilometers from Xi'an, so it is very convenient to extend your Xi'an tour to include Mount Hua, after you finish the visit to the Terracotta Warriors.
Recommended tour: Four-Day Xian with Mount Hua Experience
2. Guigu Cliff Path on Tianmen Mountain: Look Down Through the Toughened Glass Path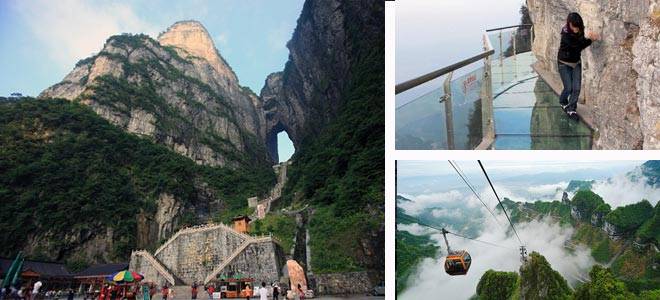 The path in Tianmenshan National Forest Park is 1,600 meters long, with an average altitude of 1,400 meters. Different from other paths, Tianmenshan Guigu Cliff Path is built among cliffs. The karst landforms are startling.
Challenges: If you think the cliff path is not challenging enough, you can try the 160-meter hanging bridge linking two cliffs, and even the 60-meter toughened glass section, where you can see the steep mountains through the glass underfoot.
Zhangjiajie: Tianmenshan National Forest Park is only 40 kilometers from Zhangjiajie National Forest Park (the main part is Wulingyuan Scenic Area). Another highlight in Hunan Province: the Ancient City of Phoenix is only 283 kilometers from Zhangjiajie City. Check out our popular Zhangjiajie tours.
3. Cliff Path on Maiji Mountain: Buddhist Sculptures in Grottoes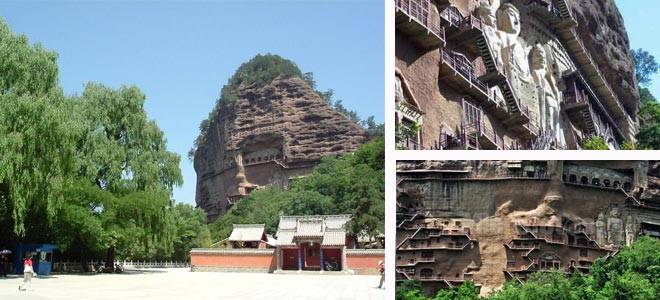 Maiji Mountain is not high: only 142 meters. The southwest face of Maiji Mountain is a steep cliff, and grottoes with hundreds of Buddhist sculptures were cut into the cliff. Some of these grottos are only 20 meters above ground, and some are 80 meters above ground. All these grottoes are connected by cliff paths.
Grottoes: The choice of such a steep cliff demonstrates devoutness in worshiping Buddha. The Maijishan Grottoes are one of China's four Buddhist grottoes, and the other three are: the Longmen Grottoes in Luoyang, the Yungang Grottoes in Datong, and the Mogao Grottoes in Dunhuang.
Gansu Province is not a very popular tourist destination, though it has several world-class attractions, such as: Bingling Thousand Buddha Cave in Lanzhou (the capital of Gansu Province, 348 kilometers from Tianshui), and the Mogao Grottoes, Echoing Sand Mountain, Yardang National Park, and Crescent Spring in Dunhuang (1,481 kilometers from Tianshui City). Best viewed as part of a Silk Road tour, you could alternatively have us tailor-make your own itinerary.
4. Path on Sanqing Mount: Scenic Area, Near the Yellow Mountains
Degree of challenge:
Popularity:
Location: Yushan County, Shangrao Prefecture, Jiangxi Province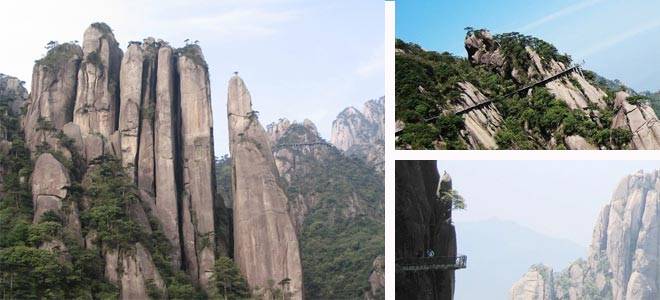 Sanqing Mount Scenic Spot Area consists of 10 scenic spots, and the most famous four are: Sanqing Palace, Yujing Peak, the West Seashore (not a seascape), and Nanqing Garden.
Mount Sanqing is not far from the Yellow Mountains, and has scenery similar to the Yellow Mountains, which makes these two twin scenic attractions. The reason why Mount Sanqing is not very popular, is because its magnificence is overshadowed by the Yellow Mountains (see below).
Mount Sanqing is always covered with fog and mist, which makes it more mystical. Climbing mountains might be a tiring, but the cliff path at the West Seashore (altitude 1,600 meters, and 4 kilometers long) links several mountains together, which makes the trip more leisurely. Cableways go up from the east entrance and south entrance.
Another two Jiangxi attractions are quite near Mount Sanqing: Jingde Town (the renowned porcelain capital) and Wuyuan Village (a picturesque village especially in spring when the yellow rape flowers bloom).
5. Ningwu Ancient Cliff Path: Miniature Hanging Temple and Hanging Coffins
Degree of challenge:
Popularity:
Location: Nignwu County, Xinzhou Prefecture, Shanxi Province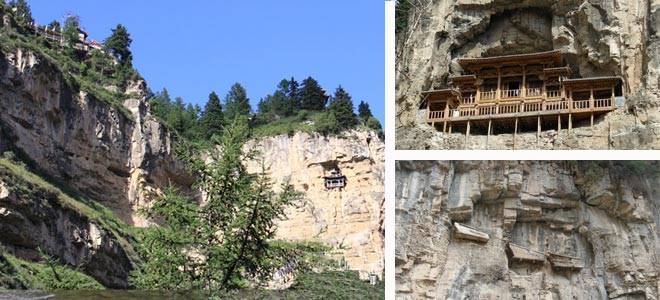 On Ningwu Ancient Cliff Path (宁武悬崖古栈道), you can see "hanging" coffins, an unsolved mystery of cliff burial.
On the ruins of an ancient 20-kilometer (13-mile) path on the cliffs of the Xiangfeng Mountains, only one kilometer has been rebuilt for tourism. It is a mysterious historical site, because nobody knows why ancient people built such a long path on the cliff.
Features: After climbing up the steep 208 steps, visitors arrive at the path. The path consists of different sections, including wooden path, caves, a hanging bridge, and stone path. The ancient hanging temple and the mysterious hanging coffins are by the path.
Ningwu County is about 200 kilometers from Pingyao Ancient City, a Qing Dynasty financial center. The highlights are of massive courtyards in typical Qing-Dynasty architectural style such as: Wang Family Courtyard, Changjiazhuang Park, and Qiao Family Compound (they are regarded as the Imperial Palaces of businessmen), and Mianshan, which is well-known for its picturesque landscape and its Taoist and Buddhist culture.
6. Mount Taimu: A Bird's Eye View of Sea Scenery from a Cliff Path
Degree of challenge:
Popularity:
Location: Fuding Prefecture, Fujian Province (福建省福鼎市)
Ticket price: 115 yuan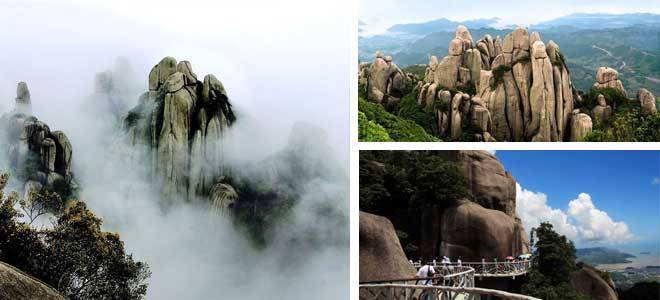 Mount Taimu is located on the East China Sea coast, embraced on three sides by sea. The path (a section is concrete, and another is wooden path) is about 1,000 meters long, hanging on the cliff-side.
If you climb the mount in early morning, you may see scenes of the mountain-seemingly floating on the clouds.
Features: In the 210-square-kilometer )81-square-mile) scenic area, you can appreciate the graceful mountains made of rocks with various shapes, and the seascapes; discover mysterious Hulu Cave (葫芦洞), and visit a temple built in ancient architectural style.
Fuding City is about 3 hours from Xiamen or about 4 hours from Hangzhou by train. Mount Taimu could be a destination for extending a Xiamen tour or a Hangzhou tour. Check out Xiamen's attractions and Hangzhou's attractions.
Related Links

China Highlights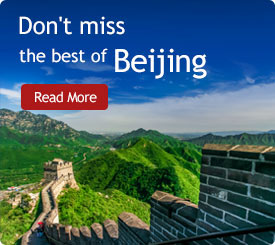 The Most Popular Articles
The Latest Travel Articles