Seven Great Places in China for Spring Photography
Spring in China, from February to April, is a good time to travel throughout the country, if you don't mind the occasional drizzle. In fact, in most parts of China the rainy season falls in summer, and can make visiting remote but peaceful tourist destinations inconvenient. The spring, which is the beginning of the warm season, is a great time for hiking and capturing the beauty in China with your camera. For springtime photography, you can browse through the following great places that represent choices of Chinese photography enthusiasts.
Note: Wear waterproof shoes when traveling during the spring travel, to protect yourself from the dew.
Since there is no ready-made route covering all the places below, you can contact us to have us tailor-make a tour for you.
Tulips in Shixianghu Scenic Spot, Chengdu City
Shixianghu Scenic Spot (石象湖景区), located in Pujiang County (蒲江县), Chengdu, is about 86 kilometers from Chengdu City. The entrance fee is approximately 50 yuan.
The Tulip Festival is held at the Shixianghu Scenic Spot from March 8 to June 30. The best time to appreciate tulips is in March and April. Different from other parks in China, millions of tulips there (including yellow, red, white, purple, and pink tulips) are planted in grasslands, hills, lakesides, and forests, but not in flowerpots or flower stands. You can also take a small boat onto the lake to embrace the spring.
Danba, A Hidden Valley on the Extending Chengdu Tour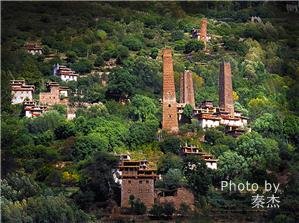 Danba is a beautiful and peaceful destination in east Ganzi Tibet Prefecture (甘孜藏族自治州), with no developed business, and is 354 kilometers west of Chengdu City (asphalt road conditions are good). Because most tourist routes do not pass through Danba, many of the visitors are photographers who drives there themselves through Dujiang Dam, Balang Snow Mountain, and Mt. Siguniang.

While visiting Danba in the spring (from February to April), you will see tall and straight ancient pillboxes, colorful wild flowers and white pear blossoms, mountains capped with snow, green grasslands, and simple Tibetan people. Hiking in such a natural valley is a favorite for many.
Yuanyang Terraced Fields in Yunnan or Longji Terraced Fields in Guilin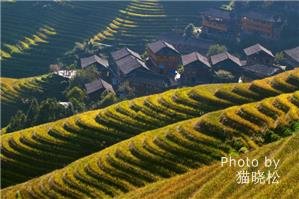 For photographing: Compared with the elegant Longji Terraced Fields (developed on hillsides at a higher elevation) in Guilin, the Yuanyang Terraced Fields (with more gentle terrain slopes) in Yunnan Province may give you more magnificent photographs given their more immense fields and more varied colors (the red lands make the area more picturesque).
Longji Terraced Fields show different types of beauty in the different seasons, whereas Yuanyang Terraced Fields create their most beautiful scenery in the spring, when the entire fields are irrigated. The sunrise at Yuanyang Terraced Fields is more breath-taking because of the reflections of the fields against more gentle terrain slopes.
Minority Customs: At Yuanyang Terraced Fields, you can experience the customs of the Hani Minority and see their uniquely styled buildings (like mushrooms). At Longji Terraced Fields, you can experience the customs of the Yao Minority and see their wooden-styled buildings, which were built without using any iron nails.
Peach Flowers in Nyingchi, Tibet
Nyingchi is located in eastern Tibet at an altitude of only 2,900 meters. Its advantageous geographical location gives it immense forests, subtropical banana trees, palm trees, and seas of of flowers, including the Saussurea, which can only be found in cold mountain regions.
A peach forest is located five kilometers southeast of Nyingchi County, and is called Taohua Valley (桃花沟, literally meaning Peach Flower Valley). The Nyingchi Peach Flower Festival is held there every year (this year it will be held in April 1). The Taohua Valley is surrounded on three sides by mountains, some are capped with white snow. Complemented by green water, a blue sky, and white cloud, the natural beauty of the area will not let you down.
Peony in Luoyang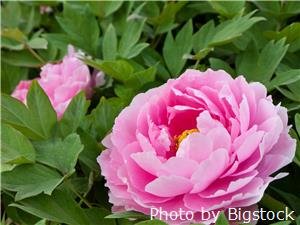 Luoyang will hold the Peony Exhibition this year from April 1 to May 10, and the best time for appreciating the peony is around April 17. The peony is a famous traditional Chinese flower that is large and gorgeous. Peonies have been planted in Luoyang for about 1,500 years, and Luoyang's peony has developed into hundreds of varieties, including red, white, pink, yellow, purple, blue, green, and black peonies.
The recommended destination for appreciating the peony is Luoyang Peony Garden, located at 10 Jichang Road (机场路10号, telephone: 0379-6223 0406). Check out the attractions in Luoyang.
Pink Apricot Blossoms in Yili, Xinjiang
Yili Valley (伊犁河谷) is located in northwest Xinjiang. It becomes a beautiful and romantic place every March. The valley is also decorated by various flowers, including pink apricot in the spring and purple lavender in the summer.
Xinhua Valley (杏花沟, literally meaning Apricot Blossom Valley) is located in Beishanpo, Tuergen Town, Xinyuan County, Yili Prefecture (伊犁州新源县吐尔根乡北山坡). All of the apricot trees there grow naturally and stretch on the hillsides of the valley.
Every spring, the hillsides are decorated with pink apricot blossoms (including scattered ones and thick patches) and pale green grass. The farm houses of herdsmen standing among the pink blossoms add to the peaceful and harmonious atmosphere to the entire valley.
Related Links

China Highlights
Questions and Answers About Seven Great Places in China for Spring Photography
April Offer $25 Coupon
Send your inquiry before Apr. 30, 2014, and we will email you a $25 coupon.
The coupon is valid till Dec. 31, 2014, for paying tour packages worth $250 or up.
The coupon cannot be used for paying flight tickets, train tickets, hotel rooms and day trips.
Travel Advice or Question? Ask us here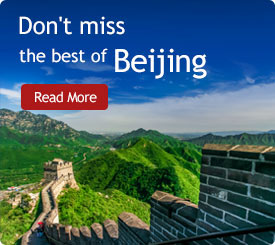 The Most Popular Articles
The Latest Travel Articles