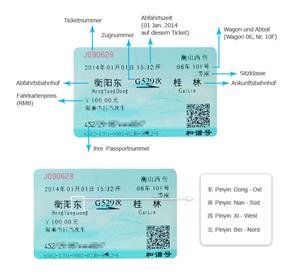 Book a train ticket on line.
Since late 2011, the China Railway Bureau has provided a railway tickets online booking service. People can visit the official website: http://www.12306.cn/mormhweb/kyfw/ to book train tickets. Passengers can purchase the tickets at most 10 days before the departure time, 20 days in advance via the website during the high season of Chinese New Year 2013 (from January 26 to March 6). It is very hard to book a train ticket during Chinese New Year high season. Pages of the website are often unopenable during Chinese New Year high season because of too many visitors and tickets of many trains are often sold out in one minute. The convenience of being able to purchase China flight tickets is obvious during the period.
As long as you can visit the office website, you can book the train ticket online no matter whether you are in China or abroad.As the real-name system for the sale of all China train tickets has been implemented since January 1, 2012, people should input your passport number when booking train tickets. (One passport can only be used for purchasing one ticket for a particular train per day.) After you are successful booking the ticket, you will get a train ticket code. Check in with an e-train ticket is only available to someone who holds an ID issued by the Chinese government. Foreigners who buy e-train ticket with their passports should exchange their e-train tickets for a paper tickets with their passports at the departure station or a train ticket office in the departure city. See Train ticket offices in major Chinese cities.
How to Book Train Tickets Online?
First Step:
Visit http://www.12306.cn/mormhweb/kyfw/ , and click the "注册" (sign up) button sign up as a new member. Then you will receive an email for activating your account.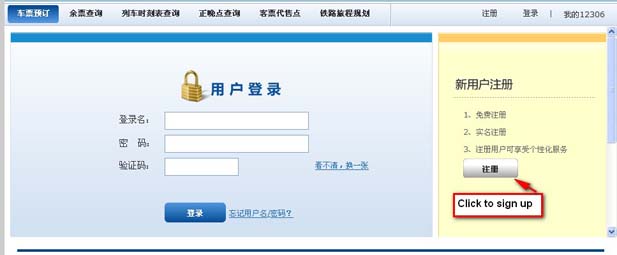 Second Step:
Log into your account and click the "车票查询" (train ticket search) button to enter the train searching page. Input the departure city, arrival city and departure date. Click the "预定" button by the train you want to open the inquiry form.
After you log in, you will see: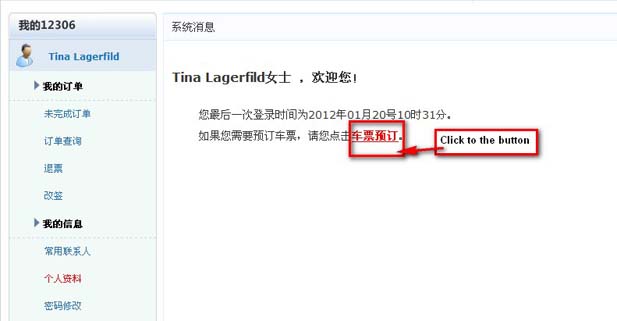 The train search page: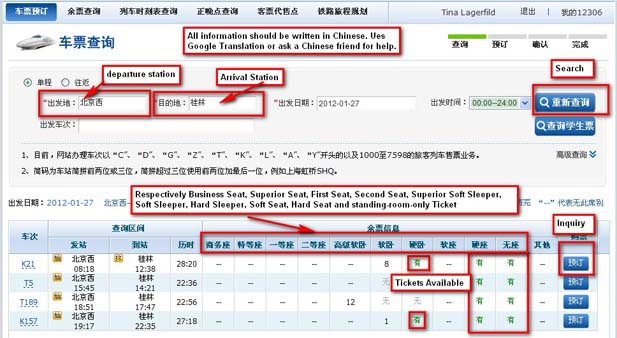 Third Step:
Input your personal information and choose the seat type. Note: Please make sure that you enter your name on the ticket application form exactly as it is written in your passport; if the two do not match, you will face some serious hassles, during all phases of check-in and boarding. Then click the "提交订单" (submit) button.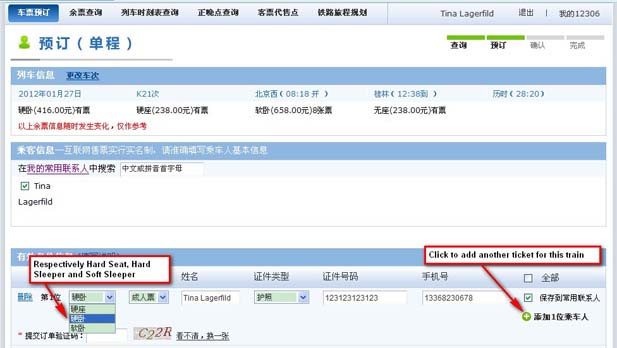 Fourth Step: Review & Confirm
Confirm the information and click the "网上支付" button to submit your inquiry and pay via online banking within 30 minutes.
Fifth Step:
Pay for the ticket via online banking
Only credit cards and debit cards of Industrial and Commercial Bank of China, Agricultural Bank of China, Bank of China, China Merchants Bank, and members of China UnionPay ( foreign banks including Citi Bank, the Bank of East Asia, Standard Chartered Bank and Wing Lung Bank; source from http://online.unionpay.com/static/page/176.html) are acceptable. Please make sure that your debit card is acceptable to the online banking service. Payment must be paid within 30 minutes; otherwise your order will be canceled.
Sixth Step:
After booking successfully, you will get your e-train ticket code. Please keep the code carefully. You should take your passport to the departure train station to gain a paper train ticket with the e-train ticket code before the train's departure. Your paper train ticket and your passport are required to be checked when boarding.