Cantonese Food
Cantonese Cuisine (Yue Cuisine)
Cantonese Cuisine, also known as Yue Cuisine, is the culinary style of Guangdong Province, which was called Canton when the Wade-Giles romanization of Chinese was in use. This particular type of Chinese food has been popularized by Chinese restaurants around the world as the majority of those who set up these restaurants were of Cantonese origin.
Cantonese Dishes
Traditional Dishes
These dishes are the earliest collection of Chinese food. They are often simple and easy to learn and cook, and are widely found in Chinese homes. They are also the most common foods on the menus of Cantonese restaurants.
Chinese Steamed Eggs
Chinese Steamed Eggs are made by beating eggs to a creamy consistency and then steaming. Variations are derived by adding different ingredients, such as spring onion and soy sauce.
Deep Fried Dishes
Although deep fried dishes are not the main stream of Guangdong dishes, there are quite a number of them which are very popular both in China the in the West.
Zhaliang (literally "Fried Two")
Zhaliang is made by tightly wrapping a rice sheet roll round a youtiao (deep-fried dough stick). Zhaliang is widely eaten in Guangdong and Hong Kong. It is usually eaten with soy milk.
Youtiao
A youtiao is a long, golden-brown deep-fried strip of dough. Youtiaos are usually eaten for breakfast with soy milk.
Shahe Noodles (Shahefen)
Shahe noodles a kind of rice noodles which probably originate from the town of Shahe, now part of Guangzhou. They are broad and white in color. Their texture is elastic and a little chewy. They do not freeze or dry well and are thus generally (where available) purchased fresh, in strips or sheets that may be cut to the desired width. Shahefen is popular in southern China's Guangdong, Guangxi and Hainan provinces.
Baiqie Chicken (White Cut Chicken)
Baiqie Chicken is made by boiling salt-marinated chicken in water or chicken broth. When it is done, the chicken looks golden in color and tastes fresh and light, preserving the best of the original taste of chicken.
The famous Baiqie Chicken served by Panxi Restaurant in Guangzhou is believed to be the most delicious. The restaurant has received the Golden Tripod of High Quality Production from the Department of Commerce for its Baiqie Chicken.
Panxi Restaurant
Panxi Restaurant is famous for its specialty: Baiqie Chicken. This dish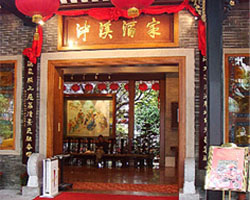 Panxi Restaurant
served by Panxi Restaurant is believed to be the most delicious in china, and Panxi Restaurant has received the Golden Tripod of High Quality Production from the Department of Commerce for its Baiqie Chicken.
Address: No.151 West Longjin Road, Liwan District
Chinese Name: 泮溪酒店
Chinese Address: 荔湾区龙津西路151号
Tel:020-81721328 81722788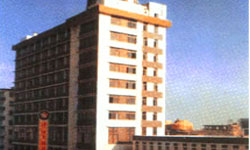 Guangzhou Shahe Restaurant
Guangzhou Shahe Restaurant
Address: No.318 East Xianlie Road, Tianhe District
Chinese Name: 广州沙河大饭店
Chinese Address: 广州市天河区先烈东路318号
Tel:020- 37285085
Cantonese Cuisine (Yue Cuisine)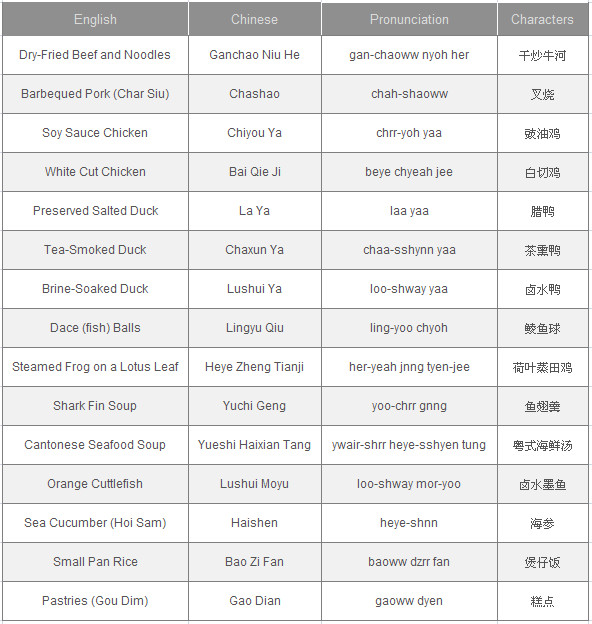 Click to enlarge the Memu of Cantonese Cuisine
Do you want to taste delicious Chinese foods when traveling in China? Have a look at our Chinese Food Tours
How to Order Chinese Food
In China, ordering food can be a real cultural experience, because there are no English speaking staff to help often or even English menus. This page is designed to give you some tips and useful phrases for ordering food in China.
Reading Menus
When arriving in a restaurant, after sitting down at the table, and the customary pot of tea has been served, the next thing that will arrive is the menu (菜单 caidan /tseye-dan/).
Menus with Pictures
If the menu has pictures you are in luck as this offers an easy way to order. Just point to what you want and say yi fen (一份 /ee fnn/ 'one portion'). In northern China 'one portion' is pronounced yi fenr (一份儿 /ee frrh/). (See numbers in our phrasebook for if you want more than one portion.) You could also do the same if you see someone else eating something you would like by pointing at their food. However, although people will usually excuse you for being foreign, this is a little impolite and bizarre.
English/Chinglish Menus
Some Chinese menus, particularly in big restaurants or those that have a Western theme, have English menus. This is the ideal situation, but beware — sometimes the English is incorrect factually, quite apart from the Chinglish and spelling mistakes. In English menu restaurants the staff will still often not be able to speak English, so you will still have to point at the menu and say yi fen as above.
Recognizing some Chinese
If you have a phrase book with you or an ability to remember Chinese characters then you could point to the Chinese for the food you want as above. Below is a list of some commonly ordered and favorite Chinese foods among Westerners.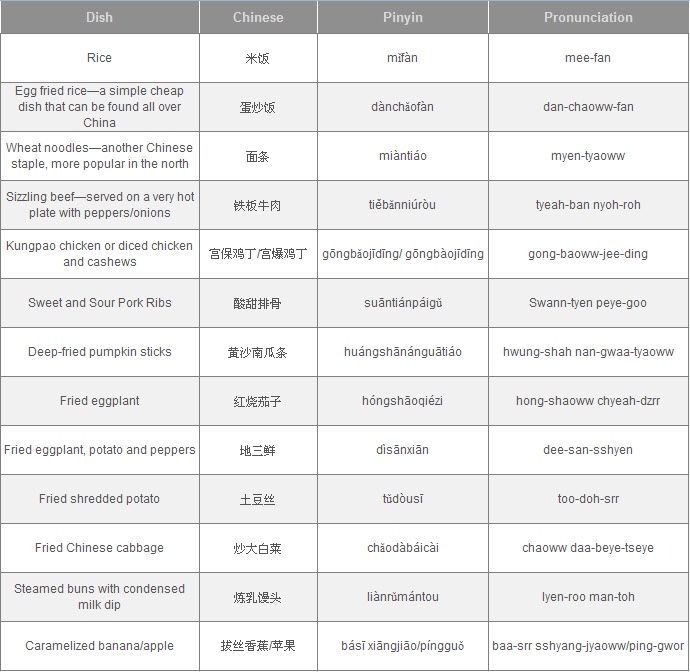 Click to enlarge the menu of Chinese Food
Ordering Verbally
You could use the list above or any other food names that you have learnt in Mandarin. A useful phrase is youmeiyou (有没有 /yoh-may-yoh/ 'Do you have ...?'). If the restaurant has it the reply will be you, if not then meiyou.
Common phrases


Click to enlarge the table of Chinese common phrases
Travel Tools in Guangzhou
More Info About Guangzhou


About the Fair
Attending the Fair
Travel Services
116th Canton Fair Hotels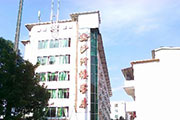 Sha Xing Hotel

To Pazhou Conplex: 7.4KM
$58

Paco Business Hotel

To Pazhou Conplex: 10.2KM
$105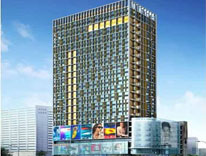 Grand Continental Service Apartment

To Pazhou Conplex: 6KM
$109