About 113th Canton Fair
The Chinese Export Commodities Fair, commonly know as the Canton Fair is held twice a year in April and October and was inaugurated in the spring of 1957. It is China's largest trade fair with the most complete variety of goods with the largest attendance and business turnover. The Fair is a comprehensive multi - functional event of international importance.
Forty - eight Trading Delegations comprising thousands of China's best foreign trade corporations with credibility and sound financial capabilities take part in the Canton Fair. These include foreign trade companies, factories, scientific research institutions, foreign joint venture enterprises, foreign owned enterprises and private enterprises.
The traditional way of exhibiting samples is now complimented by "Canton Fair online". The Fair's main emphasis leans toward export trade, although some import business is also done here. Apart from the above mentioned, other types of business activities such as economic and technical cooperation and exchange, commodity inspection, insurance, transportation, advertising, and consultation are also carried out. Business people from all over the world gather in Guangzhou to exchange business information, develop business relationships and friendships.
Thousands of exhibitors representing Chinese international trade companies and manufacturers will be present. They will exhibit over 150,000 kinds of goods. These goods are of high quality with competitive prices and are often specialties from the various regions in China. They bring new meaning to the phrase "Made in China".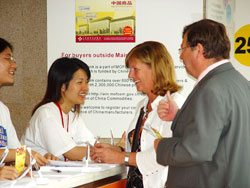 Genial communication at the fair
1. Food, Native Produce and Animal By-products: This catorgory features products like foodstuffs, native products, carpet, tobacco, tea, gardening goods, fur and leather, etc.
2. Metals, Minerals and Chemicals: Includes chemical products, stone carving, machinery, industrial mineral and metal products, agriculture implements, building materials and minerals & metallurgical products (including construction pottery, porcelain as well as sanitary equipment).
3. Light industrial Products, Arts and Crafts: Includes ceramics & porcelain, toys, straw and willow plaited products, pearl, gem & jewelry, bone carving and jade carving, special arts and crafts, drawn work and embroideries, footwear and headwear, stationery and sporting goods, clocks, watches and optical, suitcases & bags, household utensils, furniture and other merchandise.
4. Textiles and Garments: This section includes textile, silk fabrics, clothes, garments and gray silk. cotton, wool, bast fibber, silk, knitting, dyeing & printing, chemical fiber.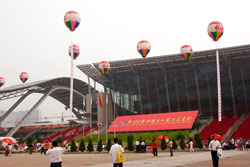 Pazhou Complex
5. Machinery and Electrical Products:Includes electron and household appliance, information products and apparatus, giant machinery equipment, bicycles, motorcycles, automobile and fittings, vehicle and engineering & farm machinery.
6. Pharmaceutical and Health Products: Includes herbs, medicine, health products, medical apparatus and instruments (including huge, complex types).
7. Internet & Computer's products: High-Tech products from China's rapidly developing technology sector.
The show is expected to attract more than 192,013 merchants from 212 countries around the world. Most will place orders for goods or seek business partners in China. The business turnover is expected to exceed 30.47 billion US dollars.
Fair Session:
113th Session in Spring 2013:
Phase 1: Apr. 15 - 19, 2013 9:30 - 18:00
Phase 2: Apr 23 - 27, 2013 9:30 - 18:00
Phase 3: Mar.1 - 5, 2013 9:30 - 18:00
Duration:
5 days each phase, 3 phases each session
Open Hours:
From 9:30 to 18:00 on every exhibition day
Venue:
Chinese Export Commodities Fair (Pazhou) Complex (Yuejiangzhong Road, Haizhu, Guangzhou, China)

Exhibition Space:
1,130,000 square meters
Phase One: 15,000 sqm
Phase Three: 5,000 sqm
Exhibits
Phase One:
Electronics & Household Electrical Appliances 
Building Materials & Hardware
Machinery Equipment 
Industrial Raw Materials
Phase Three:
Foodstuffs & Agricultural Products
Medical, Health and Beauty Care Products
Gifts and Decorations
Number of Booths:
57,136 standard booths (113th Session)
Business Turnover:
--
Number of Overseas Buyers:
200,612 (113th Session)
Number of International Pavilion:
23,599 exhibitors (113th Session)
Travel Tools in Guangzhou
More Info About Guangzhou
Planning a trip? Ask us here

800-2682918 (USA & CA)

86-773-2831999

1800-764678 (AU)

0800-0327753 (UK)

800-8793-007 (China)
Q:
Garima
Asked on 10:40 AM Mar. 25 2012
Reply
in which location is the canton fair held in guangzhou in 2012
Dear Garima,
The NO.111 Canton Fair will be held in Guangzhou CECF (Pazhou) Complex which located in Pazhou Island in southeast part of Guangzhou.
The Pazhou Complex has convenient transport. There is one metro station (Guangzhou Metro Line 8) next to the Pazhou Complex, Pazhou Station (Chinese: 琶洲站). During the Canton Fair, the Canton Fair offers free official shuttle buses for overseas customers from Pazhou Complex to key destinations in the city.
Please click here for the shuttle bus schedule:http://www.chinahighlights.com/travelguide/canton-fair/transportation.asp#sb.
Nancy Nancy Deng Replied on 00:45 AM Mar. 26 2012


About the Fair
Attending the Fair
Travel Services
113th Canton Fair Hotels
Grand Continental Service Apartment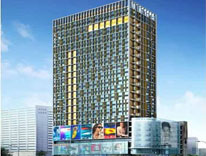 From:
$123
Location:
To Pazhou Complex: 9km
To Airport: 33.7km
Tavernew Hotel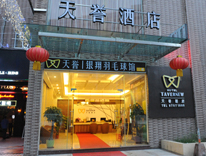 From:

$85
Location:
To Pazhou Complex: 13.1 km
To Airport: 28km
Sha Xing Hotel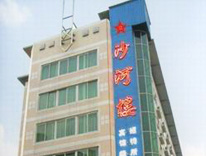 From:
$49
Location:
To Pazhou Complex: 7.5km
To Airport: 30km
Why Choose Us
Individual Travel Advice

Quality& No Tricks

Prices are all inclusive. No extra fee!

Trust & Integrity

Security by McAfee & TRUSTe
IATA, USTA, ASTA and PATA accredited

Committed to Quality

Hotel constantly reviewed
24/7 advice number in China