Pazhou Complex
CECF (Pazhou) Complex, located in Pazhou Island in southeast part of Guangzhou, is uniquely designed in a beautiful environment. The functions of meeting, exhibition and commercial negotiation are united in this exhibition centre. It is a modern architecture with perfect combination of efficiency, intelligence, humanization and ecology.
Transportation
The Pazhou Complex has convenient transport. There is one metro station (Guangzhou Metro Line 8) next to the Pazhou Complex, Pazhou Station (Chinese: 琶洲站). During the Canton Fair, the Canton Fair offers free official shuttle buses for overseas customers from Pazhou Complex to key destinations in the city. (Click here for the shuttle bus schedule).
You can easily find the locations of metro stations and shuttle bus stations on our map of Pazhou Complex.
Hotels Near Pazhou Complex

La Perle International Hotel

Address: 28,Longkou Dong Heng Street,Tianhe District,Guangzhou
$153
3.4KM

Home Inn Guangzhou Tianhe North Road

Address: No.160, Tianhezhi Street, Tianhe North Road, Guangzhou
$53
5.6KM

Sha Xing Hotel

Address: 81 Shahe Hengma Road, Tianhe District, Guangzhou
$55
7.4KM
Area
The total land area of Pazhou Complex is 700000m². For the first phase of the project, a total of 430000m² of land is used. The total construction area is 395000m². Sixteen exhibition halls are built, among which the land area of indoor exhibition halls is 160000m², and that of outdoor exhibition sites is 22000m². It is by now the largest exhibition center in Asia.
Roof and Walls
The roof adopts large span space truss of prestressed sustained steel tube, using 15000 tons of steel. The surface uses frosted stainless steel. The external walls in the east, west and north are glass walls. With a total area of 58000m², these glass walls give a brilliant and spectacular appearance.
Design Principle
The main design principle of Pazhou Complex is to extend the image of "flowing" of Pearl River. The wave like rooftop just likes the river flowing by. It integrates with surrounding environment elegantly. This design principle is unparalleled in all of the exhibition centers in the world.
Pearl Promenade
The center of the main building is designed to be Pearl Promenade that serves as the main passage to the exhibition sites. It is 450-meter long and 30-meter wide. There are lifts, elevators and stairs every 90 meters. Vertical to the Pearl Promenade, there is a Terminal Promenade in the east of the main building, whose function is to ensure the parking space for large number of incoming vehicles.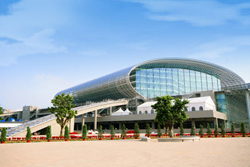 Pazhou Complex
Functions of the Exhibition Halls
CECF (Pazhou) Complex now has 16 indoor exhibition halls, which covers 160000m², and can be separated into 10200 exhibition spaces. The outdoor exhibition sites near the river covers 22000m².
The exhibition hall of the ground floor is 13 meters high and that of the second floor is 8.89 to 19 meters high. It can provide a supreme high space for all kinds of exhibitions. In the five huge halls on the second floor, there are no poles, even when each hall covers about 10000m². There are only several poles in the eight halls on the ground floor, which is convenient for disposing the exhibition. The weight for each square meter to bear is five tons and 1.5 tons
Exhibition Halls
1.1, 2.2, 3.2, 4.4, 5.1 Halls
6.1, 7.1, 8.1 Halls
1.2, 2.2, 3.2, 4.2, 5.2 Halls
Main Entrance
Two gates in each side (south and north) of a hall: 8.5 meters wide, 5.5 meters high
Size of the Halls
126.6 m×86 m
6.1, 8.1 Hall: 108.3 m×86 m/Hall; 7.1 Hall: 40m×86m
126.6 m×86 m
Area of the Halls
10887.6 ㎡/Hall
6.1, 8.1 Hall: 9313.8 ㎡/Hall; 7.1 Hall: 3440 ㎡
10887.6 ㎡/Hall
Highness of the Halls
13 m
11.65-15.16 m
8.89-19 m
Stand Height Limit
Halls on the first floor: 4.5 m; Halls on the second floor: 6 m
Weight Bearing of the Ground
5 ton/ ㎡
5 ton/ ㎡
1.35 ton/ ㎡
Power Supply
3-Phase 5-Line,380V/220V/50Hz
Power Capacity
2250kw/hall
Water Supply
Available
Available
Air Conditioner
Available
Fire-extinguishing
Automatic fire alarms, fixed automatic fire-extinguishing systems, fire hydrants, and portable fire extinguishers
Telephone
Local, IDD, DDD
Internet Equipment
Wireless broadband network (Max 11M ), Cable broadband network (Share 10M)
Travel Tools in Guangzhou
More Info About Guangzhou


About the Fair
Attending the Fair
Travel Services