Canton Shopping
Beijing Lu Pedestrian Street
La Seine Restaurant Franca is a French restaurant with French style decor. The elegant and chic environment can bring customers vivid experience of upper class. Above all, customers can appreciate the authentic French dishes including goose liver, French snail, cheese cake without being in France. Offering the Pearl view and both outdoor and indoor seating.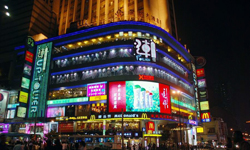 Beijing Lu Pedestrian Street
Address: Beijing Road
Chinese Name: 北京路步行街
Chinese Address: 北京路
Shangxia Jiu Lu Pedestrain Street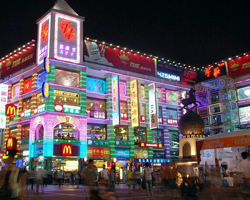 Shangxia Jiu Lu Pedestrain Street
Shangxiajiu Lu Pedestrian Street is the first commercial pedestrian street in Guangzhou. Visitors can buy clothes, shoes, jewelry, jade articles, gourmet food and tea while appreciating Qi Lou (a kind of featured and antique building reflecting strong culture of south China) along the street.
Address: Shangjiu Road, Xiajiu Road, Dishifu Road, Liwan District
Chinese Name: 上下九步行街
Chinese Address: 荔湾区上九路、下九路、第十甫路
Zhuangyuan Fang Alley
Commodities in Zhuangyuan Fang are priced in the mass consumption levels. Zhuangyuan Fang is a small alley only about 200 meters, but it attracts plenty visitors everyday by its fashionable clothes, ornaments and trinkets. It is a popular place among the young people.
Address: Zhuangyuan Fang, Renmin Nan Lu
Chinese Name: 状元坊
Chinese Address: 人民南路状元坊
The Palace Mall in China Hotel
The Palace Mall in China Hotel is a famous place for visitors enjoying leisure and shopping. Hundreds of stores offer world famous brand fashions including Gucci, Louis Vuitton, Fendi, Ferragamo and Hugo Boss. China Hotel offers dining and entertainment services besides shopping.
Address: The 1st Floor, China Hotel, No.100, Liuhua Road, Yuexiu District.
Chinese Name: 中酒名店城
Chinese Address: 广州市越秀区流花路100号中国大酒店一楼
Nonglinxia Xialu Commercial Street
Nonglinxia Lu Commercial Street is the largest commercial district in Dongshan District. Most commodities are priced in middle range. The main commodities in the street are clothes, shoes, bags and characteristic snacks.
Address: Nonglinxia Road, Dongshan District, Guangzhou
Chinese Name: 农林下路商业街
Chinese Address: 广州市农林下路
Popular Front Underground Mall
Popular Front offers all kinds of snacks from Japan, America and Taiwan. Numerous fashion products can meet the demands of those people interested in Japanese and South Korean fashion.
Address: No.25-27, Zhongshan Road, Yuexiu Districet.
Chinese Name: 流行前线
Chinese Address: 越秀区中山路25-27号
Hualin Jadeware Street
Hualin Jadeware Street is about 500 meters long, gathering over 80% jadeware merchants of Guangzhou. The history of Hualin Jadeware Street can be traced back to the Qing Dynasty (from 1636 to 1911), and it has become one of the professional jadeware markets in China
Address: Hualin Jadeware Street
Chinese Name: 华林玉器街
Chinese Address: 荔湾区下九路
Travel Tools in Guangzhou
More Info About Guangzhou
Guangzhou Theme Hotels


About the Fair
Attending the Fair
Travel Services
116th Canton Fair Hotels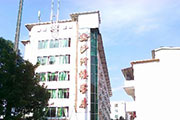 Sha Xing Hotel

To Pazhou Conplex: 7.4KM
$58

Paco Business Hotel

To Pazhou Conplex: 10.2KM
$105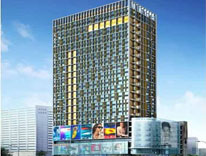 Grand Continental Service Apartment

To Pazhou Conplex: 6KM
$109