Beijing Biking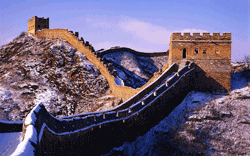 The Great Wall of China
If you are careful and are used to walking in big cities in China, then bike touring in Beijing is not only doable, it is probably more enjoyable than getting around by bus and subway. If you are not used to Beijing, go slowly and bike at your own risk. Bikes are common even in central Beijing. But so are the cars. People frequently put junk on the sidewalks, and there are open holes and other hazards. On the other hand, so many people ride bicycles that motorists are used to driving among them and are used to them being on the side of the road. You can also ride off and on the sidewalks if there are any, and go down narrow alleys. Riding a bicycle is a way to cheaply and conveniently explore Beijing, and some routes to see tourist sites and inner-city streets are described here.
Riding bikes is cheap in Beijing. There are so many people who rent them that Chinese people rent a bike for a few hours for a few RMB or 50 cents USD. Foreigners will probably have to pay about 20 to 40 RMB or 3 to 6 USD per day. This is because people charge foreigners more, and foreigners likely don't know where to find the cheap bike rentals. However, look around. In Beijing, an old used bike in good condition can easily be bought for about 40 or 50 RMB or 7 or 8 USD off a poor local person. This is because old bikes are so common. So keep this in mind when you consider renting or buying bikes. Also remember that bike repair is fairly cheap and that there are bike repair shops, stalls, and people simply sitting on the street corners willing and able to patch a tire, put a pedal back on, and pump in some air. Bike repairs like this usually cost about 5 RMB or .77 USD or less.
Pictures of thousands of peoples biking in the city streets are a thing of the past, but bicyclists are still common. Instead, there are lots of cars. There are poor neighborhoods even in Beijing's inner city, so it is still a common way to get around. With a bike, you can have the freedom of mobility to get around off the tourist stops and see the working-class neighborhoods, and you can also quickly get to place to place. The Beijing subway system is good, but the crowds and the long distances to walk around, and the confusion of Chinese signs and the dearth of English language signs make taking the subway and buses time-wasting, tiring and confusing for foreign visitors.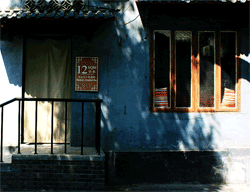 Beijing Hutong
One of the best ways to visit Beijing is to ride a bike and to surf the streets, sidewalks and hutongs. You can ride from one scenic spot to another leisurely on your own schedule. You can stop in for snacks at the thousands of restaurants. Compared to US cities, Chinese cities have maybe 10 times more places to eat and drink per square mile. So some favorite sightseeing spots and suggested routes are described herein. One suggested route is among the hutongs. Hutongs are either wide streets that were lined with the residences of the rich in the early 20th century and before or narrow streets and alleys that were lined with the shops and dwellings of Beijing's common people in that bygone era. Here are inner-city routes around the old imperial city and old hutong streets on the East Side and West Side.
Beijing Inner-city Routes
The inner city of Beijing is divided into Dong Cheng (East City) and Xi Cheng (West City). So here are two routes for the East Side and West Side.
Touring the Dongcheng District
Dongcheng is the eastern part of the central city of Beijing. It is where the Beijing Train Station is, and about a million people live there. In Dongcheng, there are Wangfujing Street, Yonghe Lama Palace, Temple of the Earth, the Ancient Observatory, the Temple of Confucius, and Guo Zi Jian that was an ancient imperial academy.
Touring route:
Wangfujing — Tiana'nmen Square — Xidan — Beihai Park— Houhai (后海) — Shi Chahai (什刹海) — Drum Tower (Gu Lou, 鼓楼)— Bell Tower (Zhong Lou, 钟楼)—Yonghe Lama Palace— White Pagoda Temple (白塔寺) — Imperial Root Relics Park (皇城根公园) — Oriental Plaza (东方广场).
Touring the Xicheng District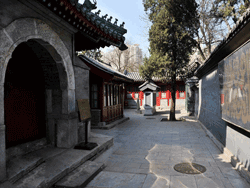 Ox Street
This area has Xidan, the Drum Tower, Baoyun Taoist Temple, Yuetan Park and Prince Gong's Mansion. An old mostly Muslim and poor commoner area called Xuanwu District (宣武区) is a part of Xicheng District. Xuanwu District is about 16 square kilometers in area. Much of the traditional architecture was torn down to make way for Olympic venues, and the people were moved to other places. Popular tourist places there include Ox Street Mosque, Huguang Gild Hall, Fayuan Temple, and Liulichang that is an antiques market. Although the touring stops aren't as good as in the Dongcheng District, you can visit Shi Chahai Park and see the greenery and the pond and rest there and see some hutongs that are tourist favorites for the shopping, old architecture, and restaurants.
Hutong Route 1: The east street of the Glass Factory (琉璃厂东街) — Kuan-yin Temple (观音寺) - Da Shi Lan (大栅栏) —Meishijie Hutong 煤市街胡同) — Deshoutang Drug store (德寿堂药店) — Former Residence of Ji Xiaolan (纪晓岚故居) —Hufang Bridge (虎坊桥)— the Glass Factory (琉璃厂).
Hutong Route 2: the Glass Factory (琉璃厂东街) — Hufang Bridge (虎坊桥) — Changchun Temple (长椿寺) —Baoguo Si (报国寺)— Ox Street (牛街) —Ox Street Mosque— Huguang Guild Hall (湖广会馆) —The Glass Factory (琉璃厂).
Biking in the Northern Suburbs
Biking at Baiyang Valley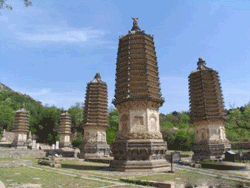 Baiyang Valley
Baiyang Valley is about 55 kilometers or 34 miles northwest of Beijing. It isn't far, but the change of scenery from urban zone to a rugged green canyon with red cliffs is surprising since it is so close to the city. There is a scenic area there called Beijing Baiyang Natural Scenic Area (中国北京昌平区白羊沟自然风景区). The roads in the area are great for cycling, and there is an big annual bike race held there. The road is considered to be suitable for bike racing contests. The attractions in the area are some old architecture including some of the Great Wall, the valleys, trees and rugged mountains, and a reservoir and a stream that flows through the mountains and rocks. Here is a suggested route.
Biking route: Shahe Town (沙河镇) - Yangfang Town (阳坊镇) - Gecun (葛村) - Liucun Town (流村镇) - Baiyang City (白羊城) - Baiyang Canyon (白羊峡谷).
Baiyang Valley is 3.7 miles long. Starting from Shahe Town (北京市昌平区沙河), turn left to Yangfang Beige Village (阳坊北葛村 yáng fǎng běi gě cūn), and then ride to the west to Liucun. Then, you can go on the creek road from Liucun (流村). The road there is quiet and flat. There are a lot of vehicles before Yangfang (阳坊). You should be careful when riding.
Reminders
In order to guarantee a safe biking journey, please check and repair the bikes well before setting out. Prepare well for the sun: sunscreen and sunglasses. Be ready for a long bike ride.
Biking around the Ming Tombs Reservoir
Biking route: Qinghe River (清河)- Shahe Town (沙河镇) - Changping (昌平) - the Ming Tombs Reservoir (十三陵水库)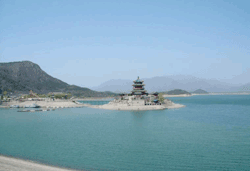 Ming Tombs Reservoir
The Ming Tombs Reservoir isn't far from the Baiyang Valley Scenic Area. It is about 25 kilometers or 15 miles to the northeast in a straight line. The main attractions there are the Ming Tombs that are scattered over an area of about 8 kilometers by 4 kilometers and the Ming Tombs Reservoir that is about 2 kilometers east of the tombs. There is also a Ming Tombs Museum there. Here is a description of the area and of a biking route from Qinghe River to the Ming Tombs.
The Ming Tombs Reservoir was built in 1958. The area of the reservoir is 20 times larger than that of the Kunming Lake of the Summer Palace. It has a capacity of more than 60,000,000 cubic meters. The reservoir is between Mangshan Mountain and Hanbao Mountain. The dam is 627 meters (0.4 miles) long and 29 meters (31.7 yards) tall. The bottom of the dam is 179 meters (195.8 yards) wide, and the top is 7.5 meters (8.2 yards) wide. You can see the words "十三陵水库" that were written by Chairman Mao. The characters are inlayed with white jade. It is quite spectacular. On the top of the dam, you can see the beautiful classic- style gallery in which you can buy artwork, cold drinks and snacks. There are docks at both ends of the dam for the visitors boating on the river.
The Ming Tombs Reservoir is located in Pingchang County of Beijing. It is 40 kilometers (25 miles) from Beijing. After the establishment of the Beijing Jiulong Amusement Park, more and more tourists have been visiting the area. When you arrive at Changping, you can go to the reservoir through Huancheng South Road and start your riding journey. The whole journey of the Ming Tombs Reservoir is 18 kilometers (11.2 miles). There are several flat mountain roads and beautiful scenery. In the morning, a lot of people ride bikes and exercise. You can enjoy yourself while riding. At noon, you can have lunch in the wood at the edge of the lake. And then, you can go back to Beijing at 3:00 p.m.
Biking Around the Huanghuacheng Great Wall (2 days)
Biking route: Qinghe River (清河) - Changping (昌平) - Qikong Bridge (七孔桥)- Heishanzhai (Black Mountain Cottage 黑山寨) - Huanghuacheng Great Wall - Silver Mountain & Pagoda (铁壁银山) - Xingshou(兴寿) - Pingxifu Town (平西府镇).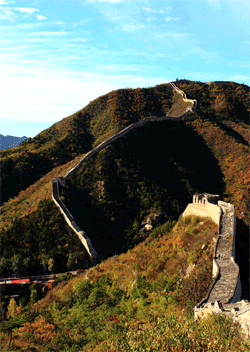 Huanghuacheng Great Wall
This area has a section of ancient wall called the Huanghuacheng Great Wall (黄花城水长城). It is about 25 kilometers or 16 miles northeast of the Ming Tombs in a straight line. So all these three biking destinations are in a straight line going from the northwest to the north of Beijing over a distance of 50 kilometers or 31 miles. The area is about 75 kilometers from Beijing. The Huanghuacheng Guan is also called the First Pass. It is about 1 kilometer (0.6 miles) away from Huanghuacheng, and it is one of the key passes of the wall. Going along the valley 0.6 miles to the north, you will find another pass that is called the Second Pass. At the First Pass, a dam forms a reservoir. On the giant rock of the west hillside, there are two words carved – "金汤." What these words mean is vague. It could mean "Golden Current" or the golden Tang Dynasty. Here is a two day bike trip you can take from Changping to Huanghuacheng
You can start from Changping. There will be more and more orchards and bigger trees on both sides of the road. On the right of Qikong Bridge is the Ming Tombs Reservoir. The following mountain road is a little bit difficult, but it will be a feast for your eyes. After the watershed, you will get to Huanghuacheng. You can eat and find accommodations in a hotel. It is a popular tourist area. If you still have energy, you can climb the Jintang Great Wall. On the second day, there will be another challenge for you to bike on the Silver Mountain and the mountain road of Xingshou. Finally, after visiting Xifu Town, you can go back to Beijing.
Huanghuacheng is located 29 kilometers (18 miles) northwest of Huanrou County pass. The Huanghuacheng Great Wall is one of the few Great Walls in Beijing that link the mountains and river. It combines the advantages of the Badaling Great Wall and the Longmen Gully. It is famous for being embosomed by yellow chrysanthemums annually. It is a resort with charming scenery, quiet and pleasant environment, and good climate.
China Highlights can help you design a tour to bike around Beijing, or just see our Beijing tours.

China Highlights