Shanghai Biking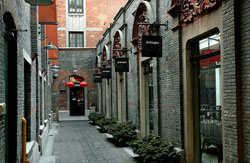 Shikumen
In Shanghai, riding bikes is a common and inexpensive way of transportation. You can easily rent bikes, and even regular new bikes sell for an average of about 500 RMB or 80 USD. Used bikes can probably be bought for a few dollars or about 50 RMB. Since there are so many bicyclists, motorists are used to them. By riding bikes, you can get a more intimate tour of Shanghai. Here are five scenic and historic bike routes in the central city areas around Jingan District, a Shanghai Creative Industry Park, and Binjiang Road near the river.
Old Shanghai Jingan District Route
Weihai Road (威海路) - Yong Quan Fang (涌泉坊)- Hengchangli (亨昌里) - Chunguangfang (春光坊) - Urumqi Lane (乌鲁木齐弄) - Shanzhongli (善钟里)
Distance: 11 km or 6.8 miles
Highlights: traditional architecture
One style of Chinese house had a stone ring arched wooden door in the outer wall. This led to a two story structure with a living place in the middle and a second-story bedroom. The style of construction was meant to keep the world and its sounds out. Following this route, you can see narrow alleys and these ring doors. The route covers about 7 miles in Jingan District.
Ride down Weihai Road going east to North Shaanxi Road (陕西北路) and then turn left. After a short distance, you can see a bamboo fence that surrounds an English-style building that is the Soong Ching-ling Love Care Club (宋庆龄爱心会所).
Then, continue to ride along the North Shaanxi Road ((陕西北路) and go to Beijing West Road (北京西路). Then turn left. After riding west about 1.2 or 1.3 kilometers, you'll come to a place where five roads intersect like a starfish. Beijing West Road ends, but if you continue straight ahead, you'll get on Yuyuan Road going west. Don't get on the road going south. About 150 meters west at No. 395 Yuyuan Road (愚园路), there is the Yong Quan Fang. (春光坊). It was listed as one of the Excellent Architecture of Modern Shanghai. You can take photos there.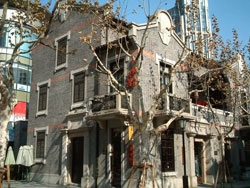 Old buildings in Shanghai
Then ride about 2 kilometers further southwest on Yuyuan Road, and when you get to Dingxi Road, turn left or south. After about a kilometer, you'll get to Yanan Road. Then turn left and go about half a kilometer to Panyu Road. Go south 200 meters and then go east 200 meters, and you'll get to Xingfu Road. You'll be in a park and old lane area. No. 22, No. 26, No. 70 and No. 90 are called the Chunguangfang. It was the Yu Cottage and had an area of 8 hectares (19.8 acres). Riding through the lanes, you can see red brick houses. You might see old people sitting in front of the gates. You may also hear Shanghai opera or Beijing opera performances.
The entire journey to this point takes about 7 kilometers (4.4 miles). It might take you two hours to get there. It does matter how much time you've spent. It may only matter about how happy you are. That is mainly what bike touring is for. You have the freedom to do what you wish. If you are thirsty, you can buy some milk tea. If you are tired, you can try to talk to old people in the lanes.
Then, bike from Chunguangfang east to Huashan Road. Go north on Huashan Road. It curves to the east. Go about 300 meters east of the curve to West Fuxing Road that juts to the southeast. Fuxing Road is a one-way route. You can only ride from the west to the east.
The buildings on Fuxing Road (复兴路) have distinctive characteristics. Chinese films are shot there. Ride east for about 1.4 kilometers, and when you get to Urumqi Middle Road (乌鲁木齐中路), turn left. After going north about 250 kilometers, you'll come to Urumqi Lane that was built in 1937. Ride northwest for about 700 meters. You'll come to Changle Road (长乐路). Go eastwards 300 meters to Changshu Road (常熟路). Go left or northwest, and you'll see restaurants and stores. You can see the Jing'an Temple. There is no sidewalk on Changshu Road, so if you want to go across the road, you have to go on a footbridge. At Shangzhongli, the journey comes to a beautiful end.
Shikumen (Stone Gate) Route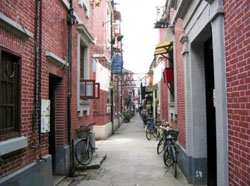 Shanghai old buildings
Yong Quan Fang (永泉坊) - Chunguang Fang (春光坊) - Urumqi Lane (乌鲁木齐弄) - Shangzhongli (善钟里) - Huaihai Fang (淮海坊) - Fuxing Fang (复兴坊) - Meilan Fang (梅兰坊) - Yuyangli (渔阳里) - Hengmaoli (恒茅里) - Renanli (人安里)
Here is another route in Jingan District to see some preserved buildings and stone ring arched doors.
Shanghai Creative Industry Park Area Route
Jingan Creative Space (South Wunning Road, at intersection of Kangding Road 静安创意空间(武宁南路、康定路口) - Wanhangdu Road (万航渡路)- Husizhan Creative Park (湖丝栈 Wanhang Road, No. 1384 Lane, close to Huayang Road) - Kaixuan Road (凯旋路)- Fahuazhen Road (法华镇路) - Fanyu Road (番愚路)- Z58 Green Forest (Z58绿光森林 No. 58, Fanyu Road) - turn back to Kaixuan Road - Nandan Road (南丹路)- Tianyaoqiao Road (天钥桥路) - Longhua Road (龙华路)- 2577 Creative Garden (2577创意大院 No. 2577, Longhua Road) - Dongan Road (东安路)- Xietu Road (斜土路) - X2 Creative Space (X2创意空间 North Chaling Road and Xietu Road)
In an effort to turn sections of Shanghai into creative industry centers for design, publishing, software design, arts, and other profitable and non-polluting occupations, about 100 areas of Shanghai have been turned into creative industry parks.
Binjiang Road Route
Guoding Road (国定路)- Wuchuan Road (武川路) - North Guoquan Road (国权北路)- Yixian Road (逸仙路)- Songbin Road (淞滨路)- Wusongzhen (Wusong Town 吴淞镇 ) - Huacheng Road (化城路) - Wusongkou Ferry (吴淞口渡口) - Binjiang Garden (滨江花园).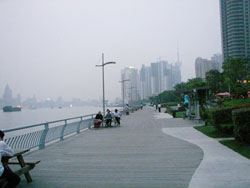 Bingjiang Road
Since the area near the viaduct on Yixian Road is bad and the air is polluted, it is suggested that you take Huacheng Road that is quieter and has fewer vehicles. You can ride from the school gate behind the Wusongkou Ferry to enter Binjiang Garden. Biking along Huangpu River will be an interesting experience for you. There is a wetland park under construction that you can visit for free, but you have to park the bike outside and walk into the area.
Binjiang Road Route Two
Yingkou Road (营口路)- Longchang Road (隆昌路) - Yangshupu Road (杨树浦路) - Gongping Road Dock (公平路码头) - go across Binjiang River - Riverside Promenade - Binjiang Park - Fucheng Road (福城路)- the Dock - Shiliupu Pier (十六铺) - Shanghai Old Street.
You might find surprises on this Yangshupu Road route such as the Waterworks Plant, the Binjiang Creative Center and so forth. It is said that you are not allowed to ride in the Binjiang Park, but that hasn't stopped people. You can experience boarding the Shangbai ferry on this route
Tips
Sturdy Bikes: Since the roads are bumpy, You'd better not to buy an expensive racing bike. It is best to get a sturdy simple Chinese steel bike for touring around.
Safety: If you are new to trying to cycle in China, it is suggested that you ride slowly on the sidewalks if there are any. Watch out for holes and things left on the sidewalks and on the streets. Wear brightly colored clothes. Ride slowly until you get used to cycling. See Traffic in China.
China Highlights can help you design a tour to bike around Beijing, or just see our Shanghai tours.

China Highlights