China City Guide
Rooster-shaped China covers a vast area of 9.6 million square kilometers, with 1.3 billion people and more than 170 cities with over one million people, bursting with enterprise, rapid development and culture. Select from the list below which cities you would like to visit and our travel advisors will reply with a proposed itinerary and quote within 24 hours.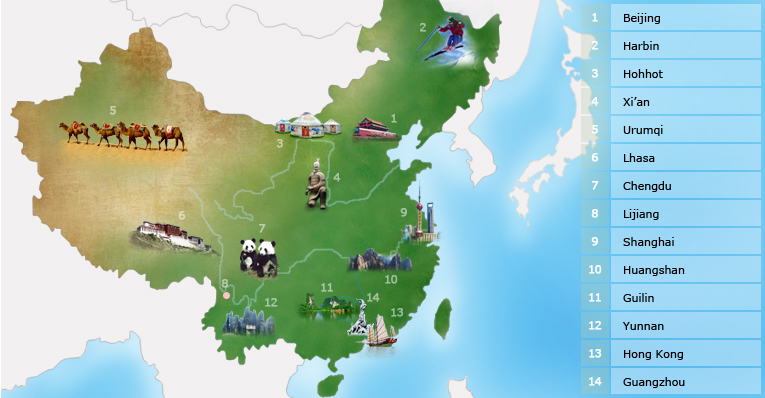 Find China Tourist Cities A-Z
All China Provinces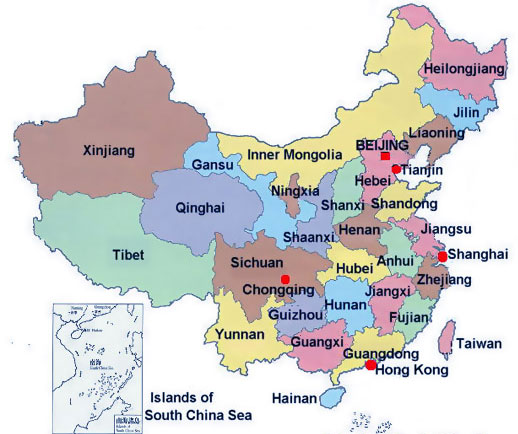 We also have information on and tours to the following Asian countries:
Planning a trip? Ask us here

800-2682918 (USA & CA)

86-773-2831999

1800-764678 (AU)

0800-0327753 (UK)

800-8793-007 (China)
Q:
Gurban
Asked on 04:44 AM Nov. 26 2012
Reply
Can you offer tours to Central Asia? Uzbekistan, Turkmenistan
Hi Gurban,
Thank you for your inquiry.
Sorry, we do not offer tours to Central Asia . We specialize in China tours, especially private China tours. For more infomation about our China Tours, please click here:http://www.chinahighlights.com/tour/ . Alice Cai Replied on 01:23 AM Nov. 27 2012
Q:
Stuart Drosnes
Asked on 5:36 PM Jul. 17 2012
Reply
Dear Sr/Madame: I am considering joining a tour that would include several areas of China including Bejiing, Xi''an, Shanghai and a 4-day cruise on the Yangtze. My concern is that the tour would be in late June into July. Would there be a great possibility of extremely hot and humid weather and,more...
Dear Stuart,
Thanks for your question.
According to last year's weather record, there were some rainy days in late June and July. Monsoon season in most parts of China is from late June and early September. However, there are some sunny days as well. If your tour dates are able to change accordingly, I am glad to tailor-made your China trip. Please feel free contact me at nancy@chinahighlights.net any time.
Nancy
Nancy Deng Replied on 03:54 AM Jul. 18 2012