How to Cook Diced Chicken with Chili
Diced chicken with chili is a part of Sichuan cuisine. It tastes very spicy as there is a large quantity of chilies in this dish. The heat and the oil are the key points to cooking this dish. Only stir-fry the ingredients quickly over a high heat with enough oil to keep the fresh and tender taste of the chicken.
Ingredients: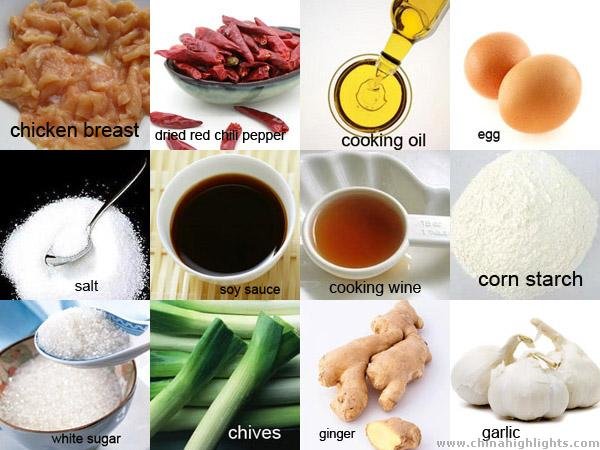 2 boneless chicken breasts (about 400g) and 80g dried red chili peppers
Seasonings: 100g cooking oil, 1 egg, 1 teaspoon salt, 1 soupspoon soy sauce, 1soupspoon cooking wine, 2 teaspoons corn starch, 1 teaspoon white sugar, some chives, a small piece of ginger and 10g garlic
Note: The amount of the seasonings listed above can be adjusted according to personal taste.
Preparation:
Clean and dice the

chive

s. Clean and slice the ginger and garlic.
Clean the chicken breasts and dice them into cubes. Mix in the 1/2 soupspoon soy sauce, 1/2 soupspoon cooking wine, egg white and 1 teaspoon corn starch. Marinate the chicken breasts for about 15 minutes.
Clean the dried red chili peppers and cut them into small pieces.
Mix the salt, 1/2 soupspoon soy sauce, 1/2 soupspoon cooking wine, 1 teaspoon corn starch and white sugar. Stir them evenly to create the seasoning juice.
Cooking Instructions:
Heat some cooking oil in a wok over a high heat. Add the chicken cubes and fry them until they are golden. Drain them.
Leave some cooking oil in the wok and heat it. Add the

chive

s

, ginger and garlic pieces and stir-fry them until they are fragrant. Add the dried chili peppers and stir-fry for 30 seconds. Add the fried chicken cubes and stir-fry until the chicken cubes turn into a red color. Pour in the seasoning juice and stir-fry for a further 30 seconds.
The diced chicken with chili is finished. Serve it in a dish.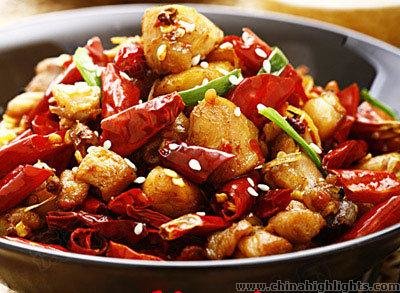 China Highlights
Questions and Answers About How to Cook Diced Chicken with Chili
April Offer $25 Coupon
Send your inquiry before Apr. 30, 2014, and we will email you a $25 coupon.
The coupon is valid till Dec. 31, 2014, for paying tour packages worth $250 or up.
The coupon cannot be used for paying flight tickets, train tickets, hotel rooms and day trips.
Travel Advice or Question? Ask us here