How to Cook Fish-Flavored Shredded Pork
Fish-flavored shredded pork is a common Sichuan dish. The fish flavor is not created from any fish product but the chili sauce, salt, soy sauce, white sugar, diced chives, minced ginger and garlic. Therefore, this dish tastes complex but delicious: salty, sweet, sour, spicy and fresh.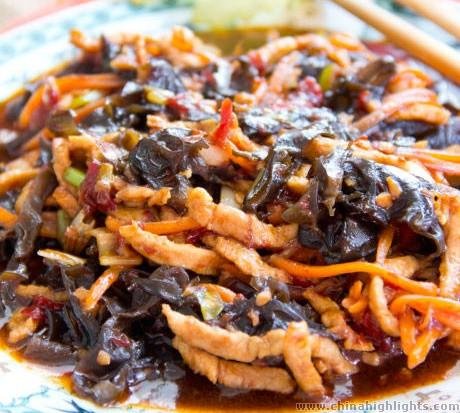 Ingredients:
250g lean pork, 100g carrot and 70g black fungus
Seasonings: 30g thick broad-bean sauce, 2 green onions, a small piece of ginger, 5 pieces of garlic, some corn starch, 50g cooking oil, 10g soy sauce, 5g vinegar, 3g salt, 15g white sugar, and 1g chicken powder
Note: The amount of the seasonings listed above can be adjusted according to personal taste.
Preparation:
Clean and shred the lean pork, carrots and black fungus.
Clean and mince the ginger, green onions and garlic.
Make the fish-flavored juice by mixing the white sugar, soy sauce, vinegar, salt, corn starch, minced ginger, green onion and garlic in a bowl.
Make the wet corn starch by mixing and stirring some corn starch in a small dish with some water.
Put the shredded pork in a bowl and mix with the salt and wet corn starch.
Cooking Instructions:
Heat some cooking oil in a wok to 50% done. Add the shredded pork and stir-fry until it loose. Add the thick broad-bean sauce and stir-fry with the shredded pork until the pork is colored. Add the shredded carrot and black fungus and pour the juice into the wok. Stir-fry briefly.
The fish-flavored shredded pork is finished. Serve and enjoy.

China Highlights
Questions and Answers About How to Cook Fish-Flavored Shredded Pork
April Offer $25 Coupon
Send your inquiry before Apr. 30, 2014, and we will email you a $25 coupon.
The coupon is valid till Dec. 31, 2014, for paying tour packages worth $250 or up.
The coupon cannot be used for paying flight tickets, train tickets, hotel rooms and day trips.
Travel Advice or Question? Ask us here