How to Cook Green Vegetables with Mushrooms
Green vegetables with mushrooms are a home style cooked vegetable dish. It is simple to cook, but tastes delicious with a high nutritional value. Green vegetables contain lots of vitamins, minerals, crude fibers and carotene. Mushrooms are rich in protein, carbohydrates and vitamins B and D.
Ingredients:
200g green vegetables and 20g dried mushrooms
Seasonings: some garlic, some cooking oil, 2g salt, 1 teaspoon corn starch, and 2g chicken powder
Note: The amount of the seasonings listed above can be adjusted according to personal taste.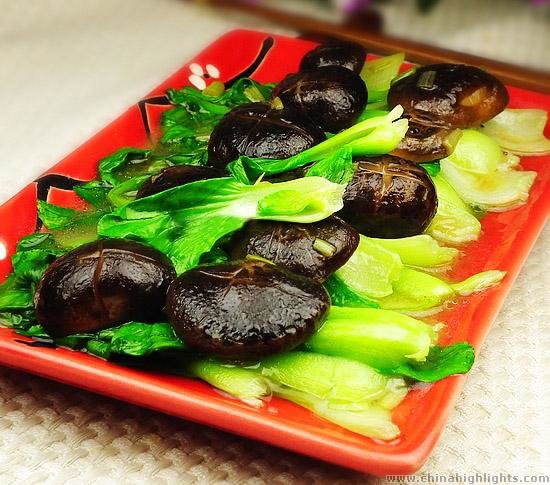 Preparation:
Soak the dried mushrooms with warm water until they are soft and then clean them. Cut them into chunks if there are any big ones.
Clean the green vegetables.
Slice the garlic.
Mix the corn starch with some water.
Cooking Instructions: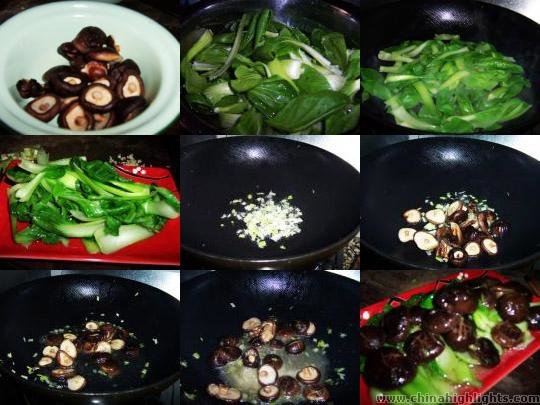 Heat the wok. Add some cooking oil. Put the green vegetables into the wok and stir-fry them until they are soft. Add some salt and stir-fry the green vegetables for a while. Pour the green vegetables tidily into a dish so that they look good.
Clean the wok and heat it with some cooking oil. Add the garlic slices and fry them until they are fragrant. Put in the mushrooms and stir-fry for about 1 minute over a high heat. Pour some water over the mushrooms. Boil the mushrooms over a slow heat for about 5 minutes. Add some salt and chicken powder and pour in the starch water. Stir-fry for a further 20 seconds. Dish the mushrooms onto the cooked green vegetables and pour the juice from the wok over the mushrooms and green vegetables.
The green vegetables with mushrooms are finished!

China Highlights
Questions and Answers About How to Cook Green Vegetables with Mushrooms
April Offer $25 Coupon
Send your inquiry before Apr. 30, 2014, and we will email you a $25 coupon.
The coupon is valid till Dec. 31, 2014, for paying tour packages worth $250 or up.
The coupon cannot be used for paying flight tickets, train tickets, hotel rooms and day trips.
Travel Advice or Question? Ask us here